Reliable, fast internet access while motorhoming is now more than just a luxury. Whether it's for researching places to stay while travelling, working, keeping in touch, blogging or even for smart equipment in high-end motorhomes, connectivity is now a necessity.
In recent years we have seen a seismic shift away from roof-mounted satellites as technology improvements have allowed people to switch to internet streaming services.
At Travelworld, we've teamed up with Motorhome WiFi, which has been a leader in leisure connectivity since 2012. A large proportion of our customers now ask us to install that system in their motorhome when they buy from us.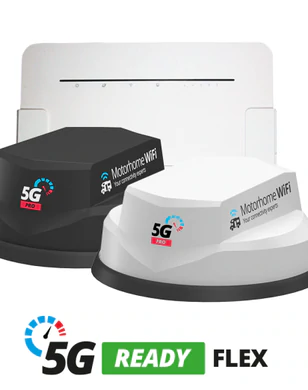 A full range of options are available to suit all needs, including 4G CAT4, 4G+ CAT6, 4G+ CAT7 and CAT19 5G. Depending on how much internet access is required and where you plan to travel, our team can advise on the right package for you.
With superfast 5G coverage increasing all the time, particularly in France and Germany as well in the UK, it might well be worth looking at future-proofing your adventures with the latest technology.
And the great news is, unlike roaming systems of yesteryear, mobile internet is now affordable with Motorhome WiFi 4G devices from £550 fitted and 5G from less than £600.
Got the data-hungry kids in tow? No problem. Most of Motorhome WiFi's products can cope with up to 10 devices at any one time – and some up to a whopping 64.
If you aren't going to be using the internet often, then there are other ways to go online while on the open road.
Many campsites will offer access to their WiFi, often free of charge. However, regular travellers will know how patchy and unreliable these services can be. A simple WiFi antenna booster will increase the signal strength and increase speeds.
It's very likely that your phone or tablet will have data and, as long as you're in an area with a phone signal, this can be used to browse quite happily. Phones can also be used as a hotspot for other devices without a SIM card, such as a laptop. In most areas not too far away from residential areas, this method will be pretty successful – though it will eat into your data quite quickly, so a suitable mobile plan is required.
Another option is to buy a WiFi dongle with a SIM card loaded with data. This stops you dipping into your mobile phone data, but don't expect lightning-fast speeds – and you'll struggle for coverage in remote areas.
For stable connectivity and peace of mind wherever you go, an in-built WiFi service is certainly your best bet.
Speak to our team of experts about what's best for you.