The weight is over!
HYMER Exsis-i 580 Review
Having it all, with added style
Sheer excellence – by design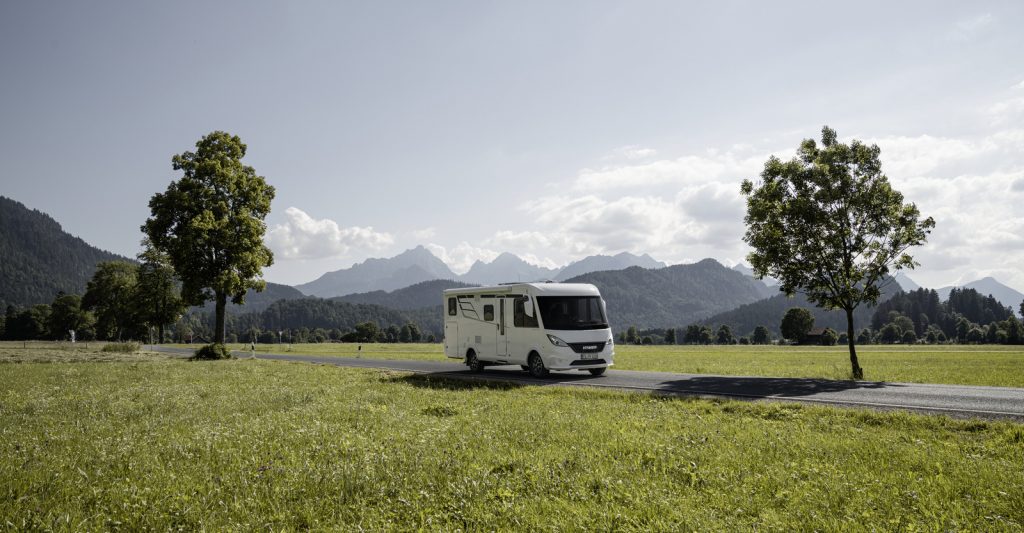 Outstanding all-round performance coupled with complete comfort. The HYMER Exsis-i 580 offers you just about everything you could wish for in a modern motorhome. And it does so with such grace and style.
'Having it all' no longer means carrying a heavy, bulky load. With the 580-i you enjoy all your homely luxury – whether it's sumptuous beds, classy bathroom or chef-standard catering – while gliding through new landscapes in an eye-catchingly chic vehicle.
The wonderfully compact, lightweight production technology means you are guaranteed a high-spec experience without compromise. The sleek aerodynamic design of the HYMER Exsis ensures great efficiency and a superb view.
Like all models in the Exsis collection, the 580 is remarkably light. Even when fully-laden with passengers, gas bottles, a full water tank, luggage and sports equipment, you'll still be hard pushed to exceed the all-important 3.5 tonne mark. This achievement is all down to its pioneering lightweight construction, which made it a winner of the coveted German Design Award.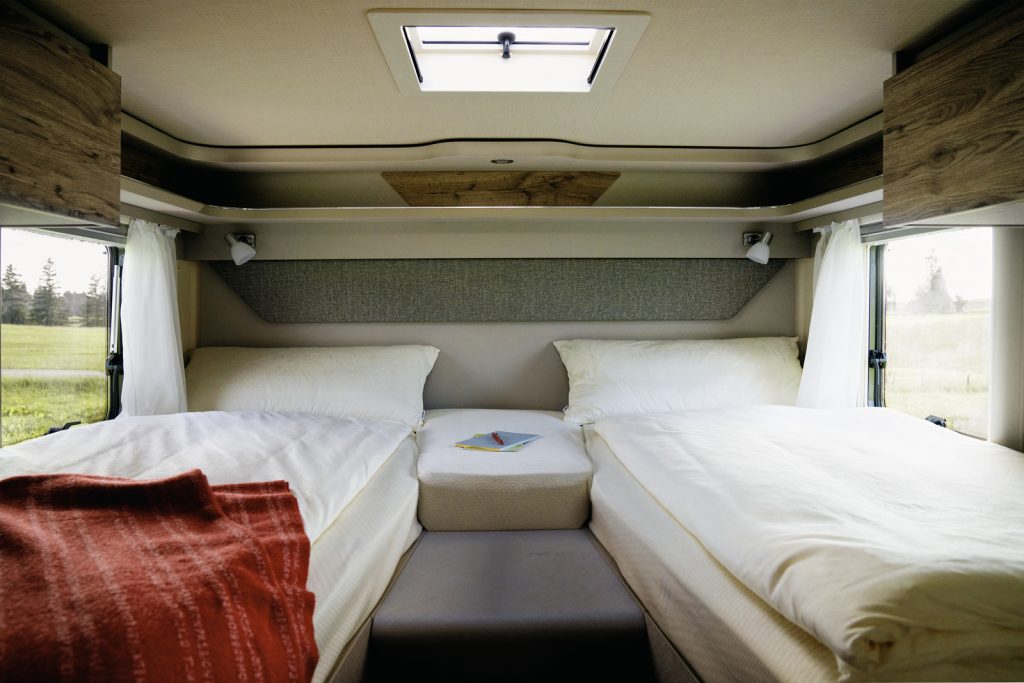 With its sturdy chassis offering impressive levels of safety and comfort, the 580 boasts a Fiat 2.2L engine as standard, yielding a standard 120 bhp (upgradeable to an impressive 160). At 6.99M long, 2.22m high and 2.77m wide, it comes packed with innovative features to ensure your comfort and enjoyment. The famously lightweight construction technology combines outstanding motoring performance with huge payload reserves of almost 500kg.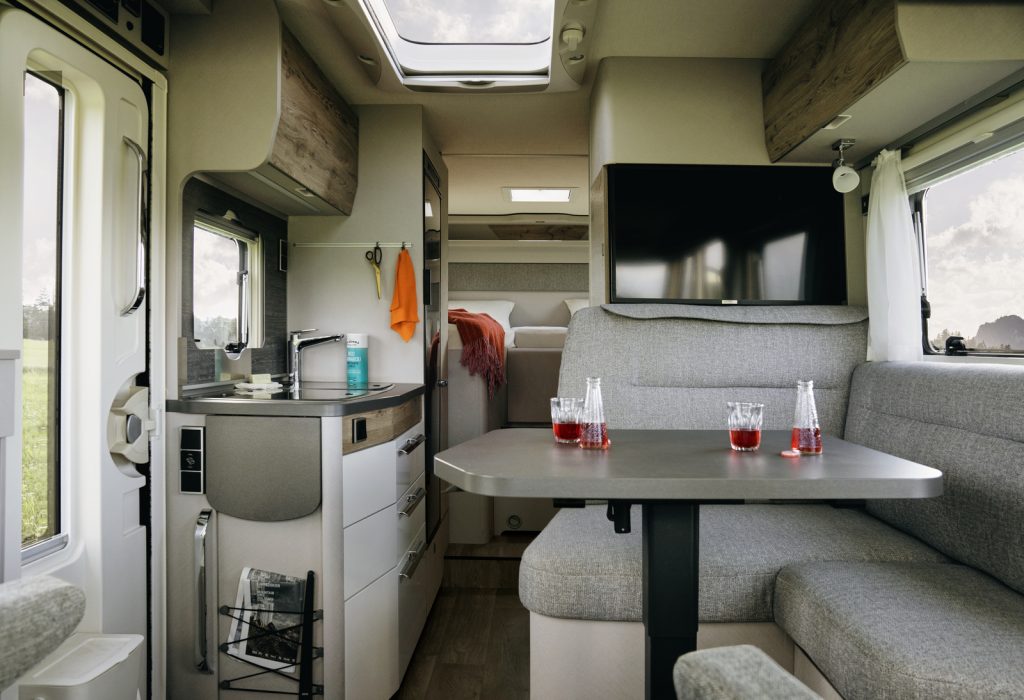 Up-front, the driver enjoys an amazing panoramic view of the road and scenery, with everything at their fingertips, thanks to the ergonomic cab layout. The front seats then swivel to create a great socialising and dining area, once the day's travel is complete. The interior ambience is heightened by a brand-new interior concept, with quality furniture and fittings in stylish, light tones
For mealtimes, whether you want to rustle up something quick or settle in for a gourmet experience, there's all you need in the excellently-appointed side kitchen. A spacious fridge/freezer, practical sink unit, soft-closing drawers and quality 3-burner hob – plus oven – provide all the tools for fabulous meals.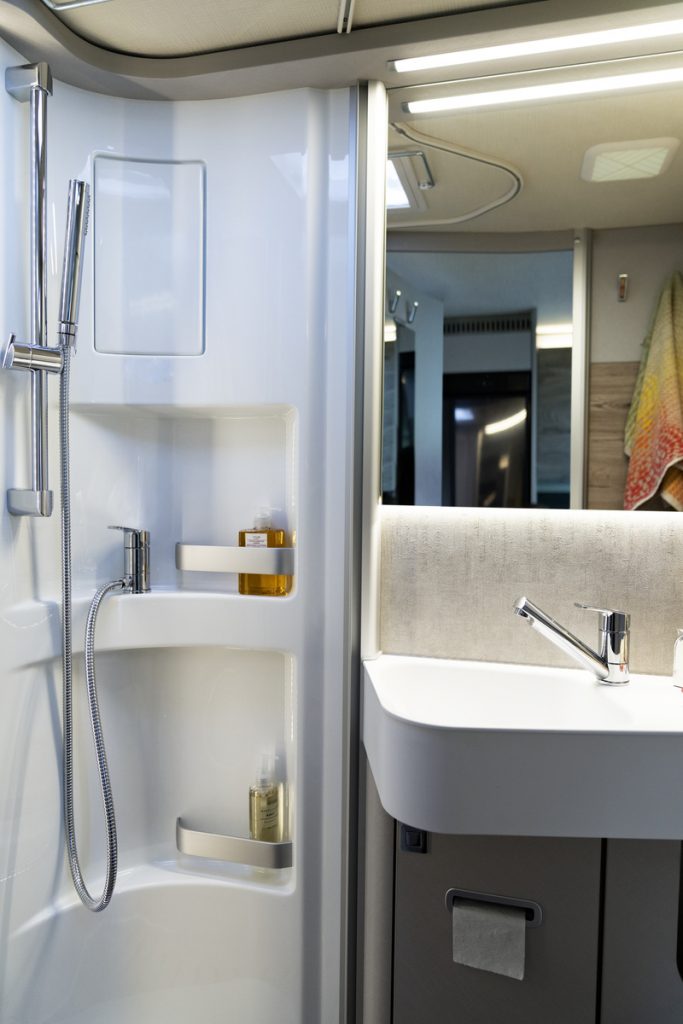 Similarly, the spacious, integrated shower and bathroom is complete with quality fittings, lovely finishing touches and great space-saving ideas.
Towards the rear, there are ultra-comfy twin beds surrounded by copious shelving and storage, while additional accommodation is provided courtesy of the pull-down double bed over the cab: perfect for a blissful, well-earned sleep.
None of this affects the sheer practicality that you would expect from this German gem, however. Worried about accommodating the BBQ, the bikes, the garden chairs, the golf clubs? Well don't be – not only is there ample storage but you can indulge your desires without exceeding weight limits, thanks to the design technology of HYMER.
Options in the Exsis-I range include a 32″ LED flat-screen TV with integrated speakers and remote control, as well as a satellite system and DVD player. In addition, you can choose from engine and gearbox upgrades, air-conditioning, cruise control, ambient lighting and a panoramic roof. Add to that a reversing camera with rear-view-mirror function and you'll have everything in your sights throughout your journey.
Designed and built for sheer travelling pleasure, the Exsis 580 i has certainly earned its place in the hearts of the most discerning motorhome lovers.