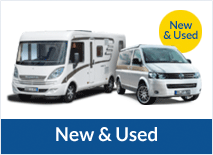 Looking after your motorhome windscreen is an important part of looking after your motorhome but it is also something that can be easily neglected.
Maintaining your windscreen can be a difficult and sometimes arduous task but it pays to preserve it as you will almost certainly be avoiding paying for chip repairs and keeping it safe for travel.
Windscreen damage repairs make up the majority of vehicle damage insurance claims. If prevenetitive measures are taken beforehand then many of these costs can be reduced or ruled out. If chips are caught before they form into cracks, repairs will cost a lot less to fix and there will be no no insurance excess to pay.
Top Tips For Looking After Your Motorhome Windscreen
There is an array of different windscreen products available, both commercially and non-commercially. From soap and water, vinegar to ammonia-based products; there is no shortage of choice. Employing the below tips can help you keep your windscreen in the best condition:
Using the right tools is important when cleaning your windscreen. You may choose to invest in some old but clean rags, steel wool, and polish, microfiber towel
Pour water ( make sure it is not boiling water) over the windscreen before you put any products on it, using a soft brush, gently dislodge some of the residue and grime on the surface
After the water has teemed over the surface over you will be able to use your product and tools of choice
Spray the glass cleaning product onto a cloth or towel and focus on all areas of the windscreen surface. Leave to dry and repeat the cleaning if there is still dirt evident
Dirt particles are smeared across your screen regularly. To stop any scratches from this make sure you clean your wiper blades often. You should also raise your wiper blades when in storage so they are not sitting on your windscreen. Remember that your wiper blades will need replacing approximately every 2 -3 years
If your window seals are damaged they can let in cold air, leaks and can be expensive to replace. There are several tips available when it comes to looking after rubber window seals. To prevent cracking rubber you can rub some baking soda and water over them, simply use soap and water or dab talcum powder on them. Some motorhome owners like to coat the seals with rubber dressing and drying with a towel
Getting Your windscreen Repaired At Erwin Hymer Centre Travelworld
If you are uncertain of any maintenance issues to do with your windscreen then it is advisable to speak to an expert. At Travelworld Motorhomes we have an experienced and skilled team of technicians who can work on your American or European motorhome windscreen.  Visit our windscreen repairs section on the site to find out more.
We work alongside Autoglass meaning we can give fast turnaround times for most fittings and we also have links with factories overseas so we can cater for most motorhome types. Our mechanics can also work on side windows and roof lights. If you have any questions about your windscreen or would like a repair quote then please call us on 0844 880 4938.
Considering A New or Used Motorhome Purchase?
If you are considering buying a new or preloved motorhome (British, American or European), view our stock of vehicles for sale. Contact us if you would like to visit our motorhomes showroom in the Midlands (Staffordshire). We are specialists in HYMER, Neismann + Bischoff, Chausson and Auto Trail (new and used). We also have an extensive range of second hand vehicles from many different manufacturers. Visit our used section to view these vehicles.