T459 takes Carado brand to next level
Carado T 459 Review
A motorhome which is more than a match for vehicles priced considerably more
Carado T459 takes popular brand to next level
Carado has long led the way when it comes to pound-for-pound style and functionality – but the all-new T459 has raised the bar again.
The family friendly brand in the Erwin Hymer Group, Carado motorhomes have always been renowned for their build quality and practicality.
And any questions of plain design have now been banished by the classy T459 Clever + Edition models. There's nothing entry level left bar the price tag.
The improvements are obvious from the outside of the 7.4m vehicle, with all Clever + T models benefitting from a silver metallic Fiat cab, 16-inch alloy wheels and a full length awning which extends out 2.5 metres.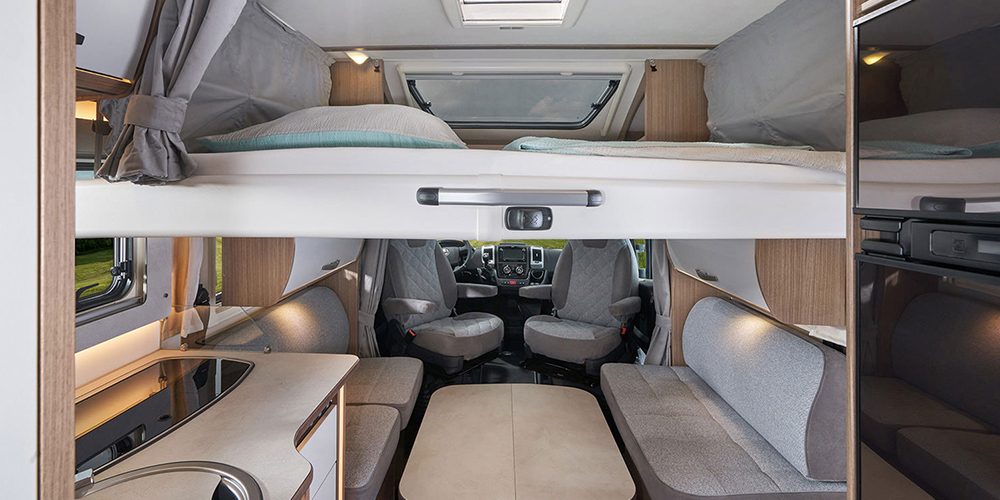 There's a Teleco satellite dish on the roof and the wiring is already conveniently installed for a reverse parking camera.
But it's the interior and the new layout which really makes the T459 stand above its competitors. Perhaps the most significant improvement is also the most simple in the in-built, flush-fit window within the habitation door. This window has dramatically increased the amount of natural light within the vehicle and gives an impression of increased space.
The T459 is the first Carado to have the increasingly-trendy face-to-face lounge with settees opposing each other. This makes dining and relaxing far more comfortable but, crucially, the seats can be turned to be forward facing using steel-framed backrests, meaning it is still a four-seatbelt vehicle. The dining table can fold away to create more space when not in use.
This model benefits from the brand new Nebula upholstery and another touch of elegance is found in the cabinet ambient lighting which runs right through the lounge, kitchen and bathroom.
The kitchen has the oven and three-burner hob you'd expect – and you certainly won't be short of fridge space with an impressive 167 litres as standard.
There's a separate shower and toilet which can be cut-off with dividing doors and an island bed in the bedroom which offers good access either side, along with two roomy wardrobes. The rounded bed can be extended to 195cm with an infill and the drop-down bed over the lounge is easy to operate and particularly comfortable, thanks largely to plastic springs under the mattress.
The island bed means there is plenty of room in the heated, 524kg payload garage, which has a door on either side of the vehicle for easy access.
With the 2.3l engine offering 140bhp, there's plenty of power to fuel all your motorhome adventures, from the wide, open road to more remote destinations. When you are hooked up, the Truma combi system allows you to run the heating and water heating off the electrics to save gas.
With excellent driveability and stylish features, it's unlikely that you will find a better motorhome at the price point than a T459. In fact, it's more than a match for many vehicles significantly more expensive.