Dometic Premium Partner
As the only Dometic "Centre of Excellence" in the U.K Erwin Hymer Centre Travelworld enjoy a unique relationship with Dometic and are able to offer three years of warranty coverage on all Dometic products fitted in our state-of-the-art workshop.

We have worked closely with Dometic for a number of years due to their industry leading products, quality workmanship and customer back up that is second to none.
Awnings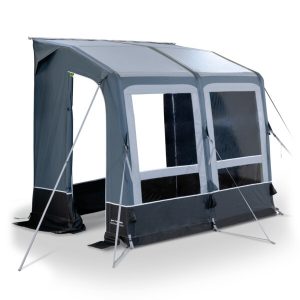 Our standard fit is either the PW1500 (wall mounted) or PR2500 (roof mounted) Dometic awning which are freshly supplied from Dometic with Aluminium end caps and mechanism for a long lasting product that is robust enough to withstand most tree branch strikes.
Both products are available in a manual, 12v or 230v operation and there are several choices of colours available for the painted surface of the awning, additionally we offer a "painted to match" your vehicle option for an additional fee.
Camproom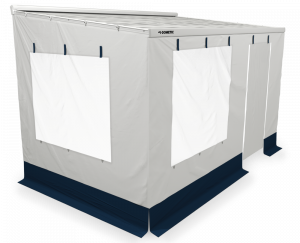 To create a private space or additional outside bedroom a Dometic Camp room is what you need, it simply slides on to the front rail of your existing Dometic awning and then you attach two side rails in order to create a whole new outside room.
Made from heavy duty and waterproof materials the Dometic Camp room is a quality product designed to last for years and takes approximately fifteen minutes to assemble
Air Conditioning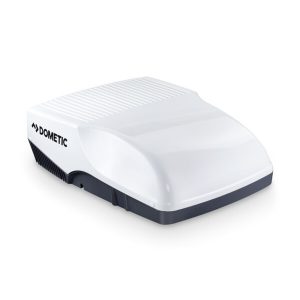 Cool air especially when touring Europe is essential to most travellers, so why not have it directly into your leisure vehicle. Most customers choose to have installed a roof mounted Fresh Jet or Fresh Light Dometic Air conditioning unit that fits in a pre-existing roof light or if needed a new hole may be cut and it mounted in allocation that suits your requirement. Both these units are available with "soft start" option that allows the compressor to start on an electrical draw of under 5amps.
Dometic also offer an under bench air-conditioning option, this can easily be located under a bench seat or in a garage and then cool air is piped into the living space or wherever you would like it to be directed (this is a particular favourite for dog owners whose pets sleep in the garage) so need to be chilled.
Inverter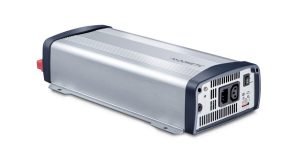 Wild camping is an experience that is becoming more popular but how do you power a hairdryer, medical equipment or a microwave whilst you are off grid and running off a 12v battery? The answer is to fit a Dometic inverter that will take the 12v battery energy and swiftly turn it into useable energy that will power such devices.
Reversing Cameras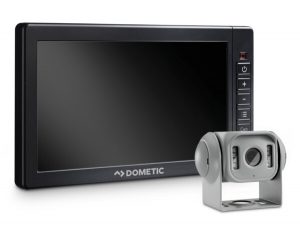 The Dometic CAM44 reversing camera has an adjustable downward view as well as a "rear view mirror" function which is what makes this camera the most popular choice by Erwin Hymer Centre Travelworld customers. Dometic also offer a 360 degree camera option that allows you to see each side of the vehicle for security or safety reasons.