Cosy nights promised in CV 540
Carado CV 540 Camper Van Review
Easy to drive and with everything a traveller needs, a camper van not to be missed
Classy Carado CV 540 is perfect for couples

Comfortable, compact, cosy and classy, the Carado Camper Van 540 is the perfect travelling companion for a couple or small family taking to the road.
At 5.41m, this vehicle is small enough to be used comfortably in routine day-to-day life at home, but it is for the special holiday experience where it truly comes into its own.
Suitable for four passengers, the combination of the reliable Fiat Ducato chassis, a 2.3 140 bhp Fiat engine and 9 speed ZF automatic transmission means the blueprint for a faultless motorhome experience is clear for all to see.
The external view of the 540 provides a sleek and modern look, aided by the eye-catching Campovolo Grey exterior and 16-inch alloy wheels, with the option to add an awning to create extra space whichever delightful location you down tools for the evening.
Internally, the Nebula upholstery brings an exclusive feel to all areas, with the dirt-repelling fabric particularly useful when travelling with youngsters.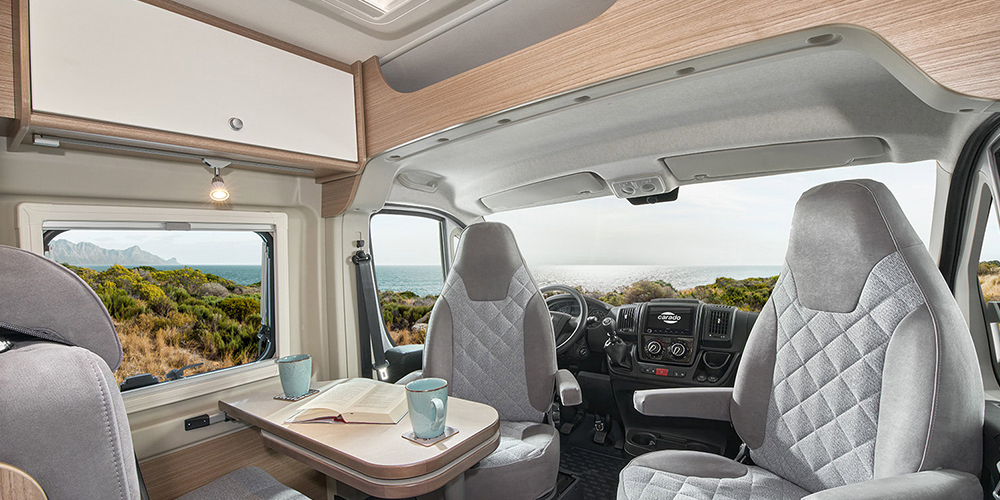 While this is the smallest of Carado's camper van range, the amount of storage in general is a pleasant surprise, a maximum payload of 772kg paying testament to that and meaning awkward decisions over which items to leave at home can be easily avoided.
Swivelling driver and passenger seats reverse onto a small but effective table to create a front lounge for a short break from travelling or evening board game entertainment, while a two-burner gas hob, sizeable fridge and ample work space provide more than enough resource to create culinary delights at any time of the day.
The integrated bathroom is a masterclass in how to make the most of the space available.
As is to be expected given the overall size of the camper van, the area is slightly on the small side but an all-in-one unit of spacious shower cubicle and fixed wash basin units attends to every need and utilises the space brilliantly.
A comfortable and well sized sleeping area guarantees a peaceful end to the day's adventures while there is additional storage capacity beneath the transverse rear fixed bed.
The long list of additional features include folding black out blinds in the cab and a pre-wired reversing camera, all of which are designed to make your journeys more convenient, comfortable and memorable.
All in all, the Carado CV 540 provides the perfect vehicle for adventures on the road for couple or small families and is outstanding value for money at £48,542 (including VAT). In this case, small is very much beautiful.