Our Awards
We are delighted and honoured to have received many awards for the business, our staff, and our brands
Midlands Family Business Awards 2018
Erwin Hymer Centre Travelworld received a Highly Commended accolade for the Fastest Growing Business category in the MFBA in 2018. They were also a finalist in the 'Family Business of the Year' in the same year for this awards programme. The MFBA recognise the success, achievements and innovations of family run and owned businesses across all the Midlands region.
10th Midlands Family Business Awards 2019
Following the successful move to the new showroom and service centre premises in February 2019, EHCT also became a finalist for at the 2019 Midlands Family Business of the Year in the Service Excellence Category, thanks to the new facilities and service offerings at the new state-of-the-art centre.
Midlands Business Awards 2019
In 2019, EHCT won one of the headline awards – 'Family Business of the Year' at the Midlands Business Awards. The award came just two months after the new move to the new premises on Creswell Park, making it a perfect way of saying 'thank you' to all our staff who went the extra mile and supported us in making the move from Telford a very successful one!
UK Enterprise Awards 2019 – Best Motorhome Dealer 2019 West Midlands
In April 2019, Travelworld picked up an award for Best Motorhome Dealer (West Midlands) for the UK Enterprise awards. The judges considered products, service, dedication to the industry and client testimonials in their assessments.
Staffordshire Chamber of Commerce 2019– Winner Business of the Year
Staffordshire Chamber of Commerce – Employee of the year 2019
Hannah Smithurst – Accounts Apprentice – Finalist
Kyle McKinley – Habitation Apprentice – Highly Commended
We were delighted to pick up the headline award for Business of the Year with the Staffordshire Chamber of Commerce in 2019. At the same awards we were equally thrilled to see two of our apprentices recognised for their hard-work at Travelworld. Accounts apprentice, Hannah Smithurst, reached the final for Young Employee of the Year, and Kyle McKinley, habitation apprentice, received a highly commended certification in the same category.
Stoke Sentinel awards 2020 – Finalist in the Training Excellence Category
The Stoke Sentinel Awards, launched in 1995, is the longest running business awards in Staffordshire. This year, Travelworld has been shortlisted in the Training Excellence category where businesses must demonstrate a strong commitment to the training and personal development of staff, as well as recognising strategic training and development strategies which have resulted in positive benefits to the company.
Stoke Sentinel awards 2021 – Training Excellence Category – Winner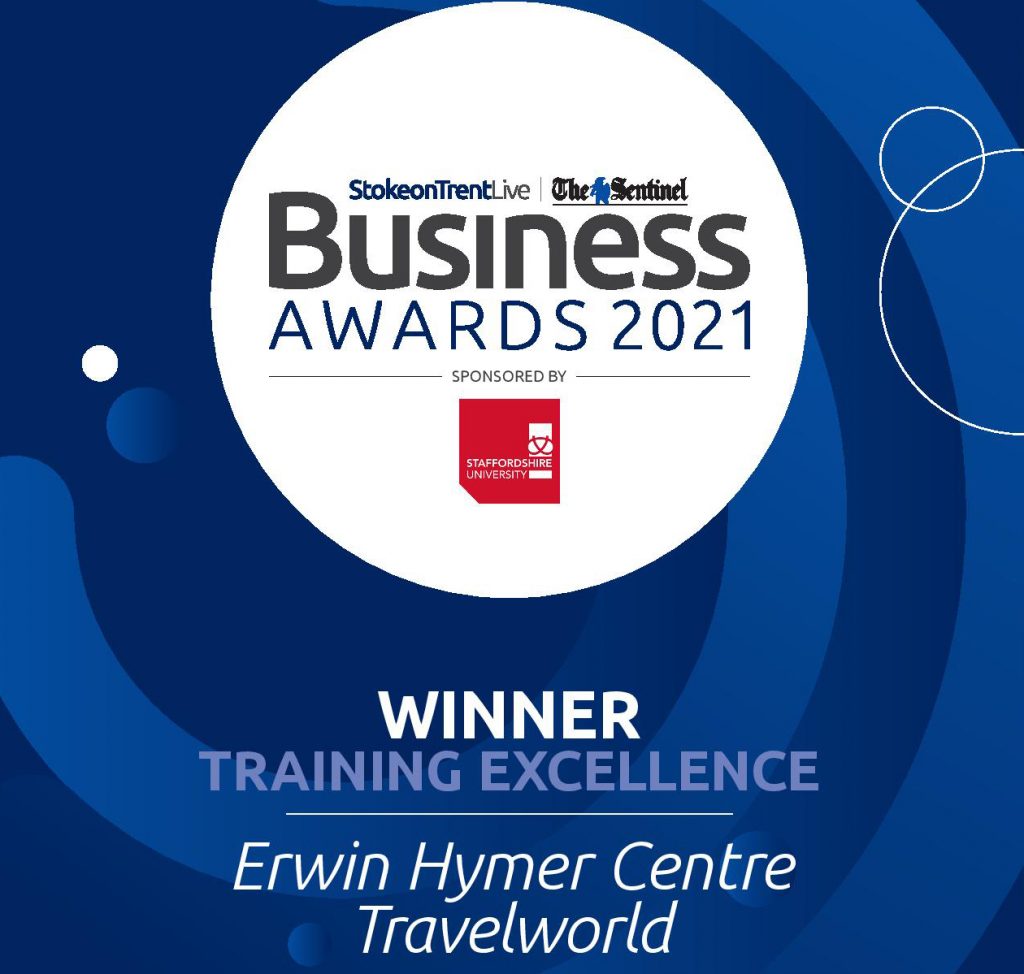 Stoke Sentinel awards 2021 – Business of the Year – Runners Up