From popular culture to natural beauty, sporting legends to industrial heritage – England's North West has always stood second-to-none. Whether you're after breathtaking views, breathless excitement, or a wonderful mix of everything, few motorhome trips could offer more. With its excellent road links and an abundance of great camping sites, the North West is truly an unbeatable destination.
Lake District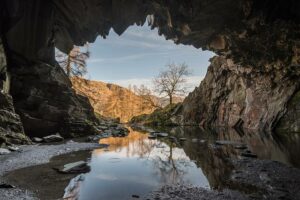 The jewel in the crown of the North West, the Lake District has inspired writers, poets and artists for centuries with its staggering beauty and rugged romanticism. Cumbria's dramatic valleys and fells – not to mention the stunning lakes themselves – are known the world over for their timeless beauty. Amid such treasures, the delightful market towns including Keswick, Kendal and Ambleside make perfect bases for exploration.
Manchester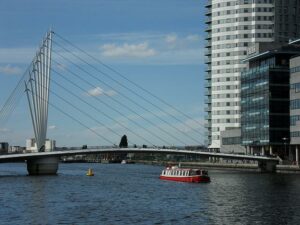 True motorhome freedom means not having to choose between the delights of the city and the calm of the countryside. Nowhere is this better illustrated than Manchester – where metropolitan buzz gives way to pastoral idyll in a matter of minutes. Offering great transport links and abundance of quality sites, you can ramble through rolling hills and hillside streams in the morning, before sampling the city's famous culture, food and arts later in the day.
Southport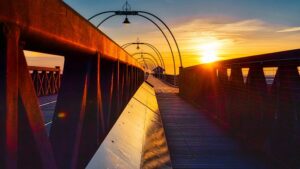 A short drive up the Sefton coast from Liverpool, Southport offers a delightfully scenic destination for motorhome lovers. Boasting a vast stretch of beaches and dunes, visitors to Southport can choose between the nearby city attractions, countless picturesque inland parks and walks, some of Britain's finest golf courses – or of course the fabulous seafront. The town itself, with its elegant arcades and promenades, is a haven of Victorian charm, making it a sheer joy to explore.
Morecambe Bay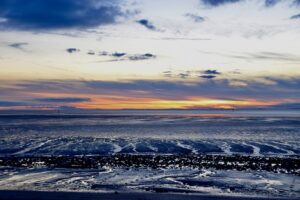 Stretching from the Lancashire town of Fleetwood up to the southern tip of Cumbria, Morecambe Bay offers visitors truly unforgettable views and magnificent sunsets. Overlooking the Irish Sea and endowed with superb wildlife, this part of the world is a paradise for all lovers of nature. Birdwatchers in particular flock to the legendary sandflats and saltmarshes, being vital feeding grounds for hundreds of thousands of waders, ducks and geese. By contrast, Morecambe Bay also offers splendid Victoriana and Art Deco glamour at almost every turn.