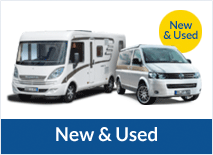 Taking pets on motorhome holidays is becoming more and more popular with motorhome owners. Your pet can enjoy being with you and still have the home comforts it is used to; plus you don't have to worry pet-sitting costs or how your cat or dog will survive without you.
A survey by pet supplies provider, Frontline, reported that a third of people take their pets away and some even choose holiday destinations around their pets. The survey also cited dogs as the favourite pet to take away. Many people camping were willing to pay extra for their pet if needed and people with pets were more willing to travel in the UK with their motorhome if it meant they could bring along their beloved cat or dog
Not everyone is keen on dogs on campsites though and the divisive subject continues amongst many campers. The main concerns from the anti-dogs faction is the noise and mess they can make. Many sites have a 'no dogs' policy or prohibit certain breeds, however, others welcome pets with open arms, even providing specific facilities for dogs in some cases.
Motorhoming With Your Pet – Top Tips
It's an idea to make sure your dog is chipped before you venture off. Dogs do have a knack of roaming especially in new places. Chipping could save you a lot of heartache and hassle. GPS collars and tags are also helpful
Ensure your dog has been vaccinated before your holiday
Try letting your pet sleep in the motorhome while you are still in the driveway at home. This will allow your pet time to get used to the motorhome as a surrounding where they can relax
Anti-slip bowls are handy for when you are on the move and don't forget covers to put over your soft furnishings inside your motorhome
Call the campsite you are heading for to make sure they are okay with pets on the site
Help your pet settle into your new spot by giving treats when you arrive, making clear the association with location and comfort
Cleaning up doesn't just mean cleaning doggy-doo but also being able to clean muddy paws which will inevitably make their way into your motorhome. Take plenty of cleaning products with you
Keep your pet cool with water always readily available if you are planning on heading for hot climates
Make sure that you tell your motorhome insurance provider that you intend on taking your pet on holiday as some policies may not cover damage to your motorhome caused by a pet
If you are renting it is imperative to find out what the rental company's policies are on pets going with you
Looking To Buy A New Or Used Motorhome?
Our extensive range includes: Carado, Dethleffs, Hymer and Niesmann + Bischoff, German motorhomes. Browse our wide stock of new motorhomes for sale here, or visit us at our showrooms and service centre at Stafford.