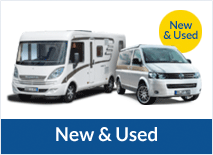 Motorhoming with a baby may sound like a contradiction in terms for some but motorhome holidays are different. You have all the amenities right there with you; room temperatures are easily adjusted, water for sterilising is readily available, emergency stopovers are pretty straightforward and if you need to rock baby to sleep what better way to nod off than in a motorhome?
However, it's still important to plan as much as you can to avoid any mishaps when motorhoming with a baby. So what are some of the essentials if you are thinking about enjoying a motorhome holiday with your baby for the first time? Below are some tips to think about before you set off.
Motorhome Travel Guide – With Baby Onboard
Milk. If you are bottle feeding your baby then a travel steriliser kit or disposable sterilising bags are a must. It's advisable to take a few extra bottles in case any get misplaced. Bottle warming kits are also useful for convenient warming of milk
If you are using formula milk then take some with you. If you are taking a long trip then find out if your destination has formula milk available from the local stores
Carry out a 'Baby risk assessment' i.e. cast a discerning eye over the interior of your motorhome through the eyes of a baby or toddler before you set off. Check for sharp edges, falling hazards or small objects which can be easily damaged or digested!
When you are planning where to go, look for sites that offer baby changing facilities, easy access to local amenities and proximity to shops. A lot of sites will have family bathrooms making it easier for you to take your baby with you when you shower and most will have a laundry with washing machines and dryers
Some campsites provide baby equipment to save you taking along your own things. Highchairs, booster seats, baby gates, and travel cots can often be provided, meaning you have more room in your motorhome. It's definitely worth finding out beforehand, especially in peak seasons
If you prefer to take things with you, there is a variety of travel-sized baby equipment available from high street and online retailers, including travel potties and travel booster seats
It's very important to check out the car seat situation. Whether your baby is in a forward facing or rear facing car seat, you will need to know whereabouts in your motorhome your baby is going to be positioned. Motorhomes have different seating arrangements so find out where is the safest place for baby. If you need to turn the airbag off find out how to do it before your set off. It is also worth practising putting the car seat in and out and having a rehearsal run to see exactly how motorhome travelling will be for the whole family
Considering Buying A New Or Used Motorhome?
If you are considering buying a new or used motorhome ahead of your next trip, why not browse our huge stock of vehicles in our motorhomes for sale, section of the website. We stock a wide range of German motorhome brands, including Carado, Dethleffs, Hymer and Niesmann + Bischoff, offering a selection of small and large motorhomes.