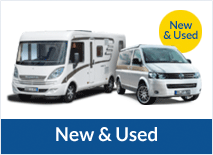 Most of us are pretty accustomed with what to take on holiday and a lot of us enjoy preparing for a well-deserved motorhome break. However, sometimes the most obvious items are forgotten about, plus, there is no harm in having a re-cap every now and then, so we've put together a useful motorhome holiday checklist for you.
Motorhome Holiday CheckList Forget Me Nots
If you're planning a late summer trip or an early autumn break then it's well worth having a read through some of the following motorhome holiday forget-me-nots:
Before you head off, plan your motorhome holiday with some precision. There is no need to remove the adventure from your break but your adventure will turn into disappointment if you don't plan a few things, especially in peak season. Booking your pitch at the site of your choice is a definite 'do'. Planning your route to avoid low bridges is also advisable
If you are planning on stopping off somewhere check out the stopover spots in the area you are travelling. There are plenty of websites detailing stopovers in the UK as well as Stellplatz in Germany and Aires de Camping in France
Wild camping can still be 'wild' even if you plan where that is going to be. Getting the balance between being adventurous yet safe is not difficult and could save you a lot of problems. For instance, making sure that you can easily access the wild camping spot you have chosen can prevent you having problems getting in and out
Don't go overboard on the packing. It's tempting to take things for all weathers, particularly if you are holiday in the UK where the weather can be unpredictable. Try to envisage what you will be doing and what practical items are really necessary
Food-wise, again, pack the essentials as there is simply not the same amount of storage as in your home kitchen. There are plenty of places you can stop off to refill your cupboards
For both children and adults you will need entertainment provisions, particularly if you are motorhoming in the UK. Wet days require some amusement so take along a board game, DVD player, iPad or some books, just in case
Remember to use the facilities on site where you are staying, this will save you from having to clean and tidy your motorhome as much
Soft luggage rather than hard suitcases are advisable as the bags are a lot more accommodating of awkward storage spaces
An alarm clock, first aid kit, crockery and cutlery, a spare gas bottle, phone chargers, plug adaptors, batteries for all your devices and a torch should all be considered when making your list of things to take
Plastic bags are always handy for storing dirty laundry, wet swim suits and rubbish. Plastic food storage bags are also useful and don't take up as much room as Tupperware
Last but not least – leave some room for souvenirs and things you will inevitably pick up along the way
Considering Buying A New Or Used Motorhome?
If you are contemplating buying a new or used vehicle for your travels now that you have got your  motorhome holiday checklist, why not look at our range of vehicles, including HYMER, Chausson, Niesmann + Bischoff and Auto Trail vans. In addition to new vehicles, we also have a wide range of used vehicles. Either browse online and enquire for more information or visit us at our Telford, Shropshire showrooms.