European explorers David and Jackie Clarke are such regular customers of Erwin Hymer Centre Travelworld they're almost part of the furniture!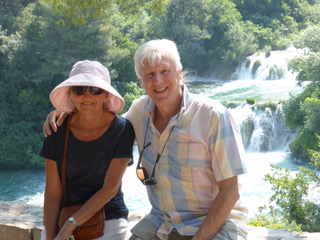 The adventurous couple have bought half a dozen motorhomes from Travelworld having first stepped foot in our showroom eight years ago.
"It's all about integrity for us," said David, aged 77. "The people at Travelworld are very friendly and honest to deal with and we now almost feel part of the family. We feel valued as a customer, and any minor faults we may have had in the past have always been dealt with promptly and without question or lengthy discussions.
"They also have a fantastic range of motorhomes and all the expertise to help you pick the one that is best for you.
"The whole process of buying and selling is first-class, with great care to the pre-customer inspection and preparation before the customer collection."
David and Jackie started their motorhome journey when David had to stop sailing after 35 years following an operation. The couple were far from ready to stop their travelling, so they sold their boat and purchased an Auto-Sleeper to test the waters of 'land cruising', as they call it.
They loved their home on wheels but grew frustrated at making up the bed each night, so upgraded to an A-Class HYMER before later switching to other A-Class models. They now own a HYMER ML-T 560 which they have had for three years.
"We both love our current motorhome – and we've had it for longer than any of the others," said David, a retired Facilities Manager.
"It has a king size transverse rear bed which, for us, provides wonderful sleeping comfort this particular layout gives us more than sufficient storage together with the excellent pull-out larders, which are fantastic for food storage. All brilliant for our longer trips away.
"It also has an electric hob, three gas rings and an oven. The fitted solar panel allows us to be free of electric hook up and, together with the gas heating and hot water heating facility, this gives us the freedom to be off-grid when the opportunity arises. It's just perfect for what we need and the touring we love to do."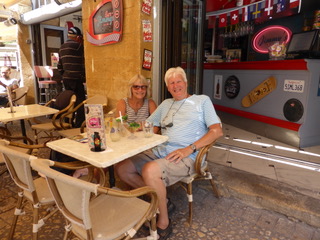 The couple have toured extensively in Spain, Italy, France, Belgium, Austria, Germany, Slovenia and Croatia as well as vast parts of the UK – and have already made their plans for the rest of this year.
David said: "Because of the ever changing travel restrictions abroad at the moment, we will stay in the UK and have plans to visit Devon, the Lake District, Yorkshire and Scotland, but when it is safe to do so we will head back to Croatia as we both just love the relaxed lifestyle there.
"When we're away abroad we rarely do less than 4,000 miles. We stay on sites for two or three nights, as for us, it is the freedom to explore the countries cities, villages and countryside that we both love. Our motorhoming is unequalled in giving us this opportunity and we hope to continue for many years to come. "
At Erwin Hymer Centre Travelworld, we stock a range of HYMER motorhomes, both new and used. Give our expert sales team a call on 01785 878787 to find out more.