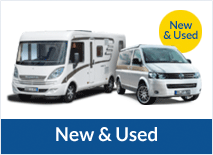 The team at Travelworld Motorhomes doesn't need any convincing on the benefits of motorhoming as a way of life and we are pretty sure that most of you reading this will also appreciate the freedom, choice and comfort a motorhome can bring. For those who aren't sure of all the positives a motorhome can deliver, we have compiled five reasons to buy a motorhome derived from our own experiences, and most importantly, from our customers' experiences.
Freedom
Once you have purchased your motorhome you are free. Free to travel where you want to go, free to choose when you want to travel, free to choose your number of passengers, free to make your surroundings cosy, free to park (legally) wherever you like making the most of mother nature's finest creations, free from pitching tents. With the purchase of a motorhome you are sure that you and your family are really 'free' to do as you please.
Expands Your World
For years to come, your holidays will never be the same holiday year after year. Each time you jump into your motorhome or American RV, a new adventure awaits. In addition, there are annual motorhome shows and clubs to enjoy where the opportunity to meet like-minded new friends is always available.
Cost A Lot Less Than A Traditional Holiday
Save on package holidays. Whilst the initial purchase of your American RV or motorhome will possibly be a significant outlay, the money saved on hotel bills, camping equipment, wear and tear on your everyday vehicle if towing will soon outweigh the cost.
Are A Home From Home
Holidaying in a motorhome means you can almost take your home with you. Any home comforts you know you will need whilst away on your journey can be packed onto the motorhome with no worry about exceeding weight restrictions for travelling.
Like Your Pets
Choosing to holiday in a motorhome or campervan gives you the opportunity to holiday with your beloved pets. No need to pay for costly kennel fees or asking family and friends to help out with feeding. It allows you to choose the length of your break without having to consider leaving one of the most important members of the family behind.
Travelworld Motorhomes
If you were undecided about whether a to buy a motorhome or campervan is the right way forward for your family holidays for the next few years we hope we have convinced you that motorhoming is a great lifestyle choice for all the family.
As specialists in Motorhome and campervan trading, our teams can offer a full advice service to support you in the purchase of the right vehicle for you. We have new and second hand motorhomes for sale. Don't hesitate to give our team a call on 0844 880 4938.