Motorhome Off-Grid Adventures Of a Lifetime
A Cornish couple have visited Travelworld to buy a luxury 4×4 motorhome as they prepare for an off-grid adventure of a lifetime.
Kevin and Joanne Penney are seasoned travellers having enjoyed sailing trips and motorhome escapades around the world.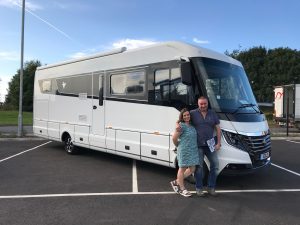 They currently own a Niesmann+Bischoff Flair 920 LE, which they bought from Travelworld two years ago and which boasts an extra-large lounge and sublime kitchen.
They have taken the 9.27m Flair to every corner of the UK as well as to favourite motorhoming haunts across Europe.
But the couple is keen to go off the beaten track and enjoy the remoteness motorhoming can offer.
To that end, they've bought a HYMER ML-T 580 4×4, which they are looking forward to collecting from our Stafford dealership at the end of this year.
Kevin, a 56-year-old retired business owner, said: "We love our Flair and have had some great times in it, but we wanted a motorhome which had that edge to get to those remote locations.
"We went to a show in Germany and looked at every combination of 4×4, from giant overland trucks to Land Rovers and everything between.
"We settled on the ML-T 580 4×4 as it is the perfect combination of Mercedes engine with the HYMER brand. HYMER has been building vehicles of that size for decades.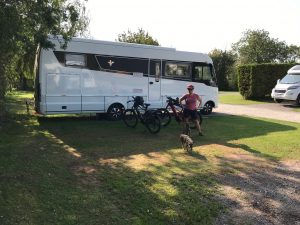 "We have ensured the vehicle is capable of being off-grid for at least 14 days a time with lithium batteries and diesel heaters. It's really exciting and we can't wait to get going."
The couple plan to start their trip in France before heading to Morocco and then onto Northern Italy. Next up it's Croatia, Romania and Hungary before the vehicle is shipped to Canada where the couple will pick it up, exploring the Great White North and later driving into America.
Joining Kevin and Joanne on their trip will be their two beloved border terriers.
While away, they enjoy mountain biking and walking, as well as taking in the local culture.
Speaking of the couple's Travelworld experience, Kevin said: "We've always been impressed by Travelworld. Ryan, our salesman, knows us and understands what we want. He has a great knowledge of the products and is always happy to help."