A Staffordshire family purchased a brand new Dethleffs motorhome from Travelworld in 2019. In this blog, Joe, Hayley, Brody, Harley and Rio the dog share their top tips on choosing the perfect motorhome.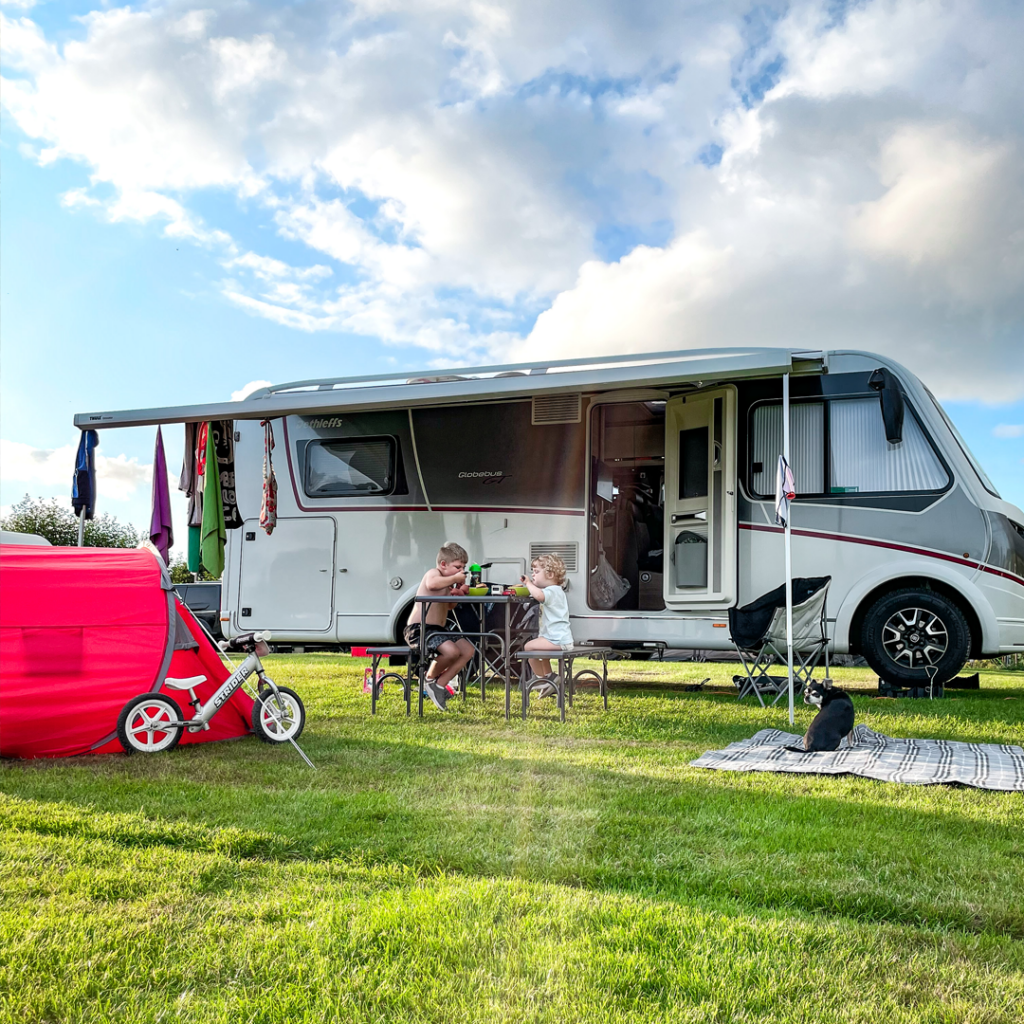 How have you been enjoying motorhome travel?
We've fallen in love with vanlife all over again since purchasing our Dethleffs Globebus i7. Buying this new motorhome was a revelation for us after previously owning smaller camper vans. A bit of back story – we purchased our first camper van back in 2016 when we just had one child (Brody, who was two-years-old at the time). It was a custom converted camper van based on a 2010 Fiat Ducato, and whilst we enjoyed short weekend trips, we found longer trips a little more challenging with limited space compounded by some fundamental mistakes we made when speccing out the conversion.
Roll onto 2018, and we purchased a factory-built camper van by Sun Living which was a long-wheelbase Fiat Ducato. It had more room, but also it was a lot more cleverly laid out with many well-thought features which you only get by buying something that's had a countless amount of development time and research put into it. During this time, we had our second child, and whilst this van was better, we didn't feel it had enough space to allow for us to do more traveling all year round comfortably.
That brings us to today and two years of traveling in our much better equipped Dethleffs motorhome purchased at the end of 2019 from Travelworld. Buying a motorhome was a revelation for us as we could gain more internal space without significantly increasing the length of the vehicle. This means that traveling with two kids and a dog is more comfortable and allows us to enjoy wintertime in the van almost as much as the summertime.
What attracted you to the Dethleffs Globebus motorhome?
The biggest thing for us here was that the Dethleffs Globebus allowed us to benefit from a lot more internal living space along with a decent payload without compromising on the length of the vehicle or going over the 3,500kg vehicle licence limit we have.
The Dethleffs is a compact design, only 40cm longer than our previous camper van, which is pretty insignificant when you get your ruler out. Still, because of the boxy shape of the Dethleffs, the internal living space was revolutionary compared to the camper van.
As well as the size, there's a few other features we value a lot in our Dethleffs Globebus.
We have an island bed layout at the rear which allows the toilet and shower to be contained in the rear bedroom. The benefit of this is privacy. When showering or getting dressed you can close the door off to the bedroom and have a lot more space to get changed and be completely private.
Another great feature we like is the large garage at the rear to store the kids' bikes, tables and chairs, and generally all of our outdoor recreational items. It also has two doors on both sides of the motorhome, which is super convenient to get to things without having to unpack everything first to find what you want.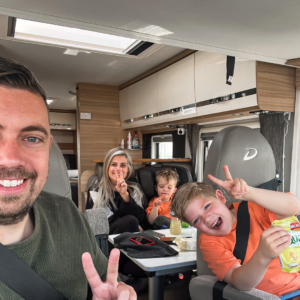 What are your top tips for choosing the perfect motorhome?
As our Dethleffs motorhome is our third purchase, we have learned over the years what's essential to us in a motorhome and what isn't. Here are our tips for buyers:
1.       Consider the advantages of buying from a dealer (our experience)
One of our camper van purchases was for a used vehicle not backed up by the reputation of a prominent dealer, and we have seen a lot of stories about people buying defective motorhomes either privately or from non reputable dealers. Thankfully, our experience purchasing from Travelworld was entirely difference. Dealing with Martin from the sales team was a completely refreshing non-pushy sales approach and because Travelworld has a vast amount of motorhome stock, we were able to spend a lot of time comparing which motorhome was going to suit our needs best.
Another big advantage for us buying from Travelworld is knowing a very experienced service team backs you up. Just like a car, you can always expect niggles from time to time with motorhomes; however, having peace of mind knowing Travelworld have all the experience on hand to resolve such issues was convenient and reassuring for us.
2.       Choose a layout that works for you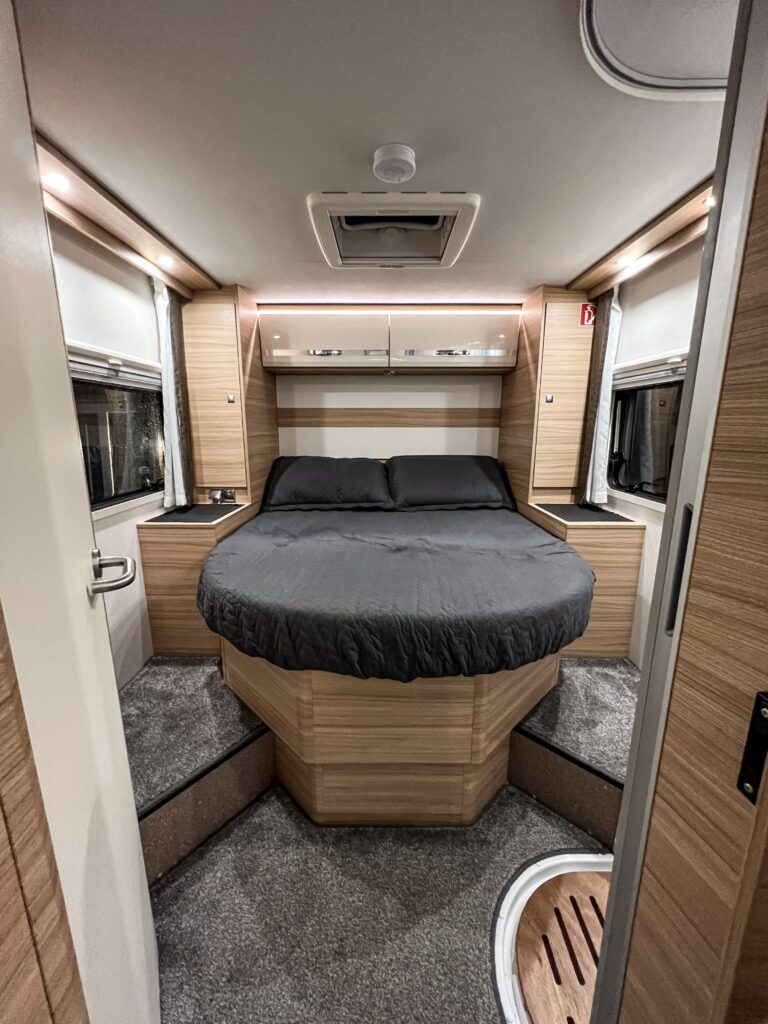 There are many layout options available, but the most crucial consideration is how many people you'll want to travel and sleep in the motorhome comfortably. This is an important consideration, particularly for families, as most motorhomes have four seats to travel, but some cannot comfortably sleep four people. Also, think about the sleeping arrangements. Do you want at least one fixed bed or perhaps you prefer more daytime space and don't mind setting up beds from a lounge?
3.       Think about the upgrades you might need
We would consider a few things essential when thinking about motorhome upgrades and extras.
Firstly, we think having a sat nav and reversing camera are essential in a motorhome. The reversing camera helps avoid backing into fences and trees, and the built-in sat nav means we don't have to keep removing it in fear of people breaking in. It's also pre-programmed to understand our vehicle weight and dimensions and so helps us avoid tricky narrow road routes.
A solar panel to constantly charge the leisure battery is a game-changer, especially as the rise of camping and motorhome traveling in the last few years means it's a struggle to get electric hook-up pitches in peak times. The solar panel means we don't need 240v electricity, and we can do more wild camping away from busy campsites without worrying about our batteries going flat.
TV, awnings and WiFi are not essential, but they can be helpful extras. The awning is great for keeping the sun off in the summer but also serves as a winter rain shelter. A TV is excellent for when you're spending those earlier darker nights inside the van during winter, and the kids do rely on the WiFi, particularly on long drives, so that they can watch YouTube Kids on their iPads.
We've got a few more tips on this subject covered in our motorhome buying tips blog post on our website.
Follow along with Kampafam's motorhome travels
You can follow along with Kampafam's travel journey on their Instagram page