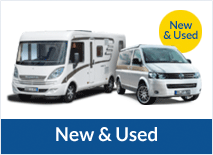 Auto-Trail has teamed up with Witter Towbars to design and produce a range of towbars that are compatible with a number of Auto-Trail models.
The Witter towbars form a bespoke design which works using a plug-in wiring harness; it is safe, secure and easy to fit by selected AutoTrail dealerships, like Travelworld Motorhomes.
The designers at Witter created the bespoke, detachable swan neck towbar system in the UK and as such it has undergone testing to meet regulations. It is fully compliant with Regulation 55 which relates to safety coupling mechanisms and their components and ensures they work together safely.
Witter has a company history dating back to the 1950s and is well-known as the go-to dealer for reliability and quality.
Why Use A Towbar On My Motorhome?
Towbars are popular with all kinds of motorhome enthusiasts; from the trepid explorer with an armful of mountain bikes, equine-lovers who need to pull a horsebox or thrill-seekers who need to take their motorcycle trailer with them.
Towbars offer versatility to all motorhome holidays and as well as the swan neck, there are many other types to choose from for different kinds of motorhomes. Many motorhomes use flange towbars, flange ball towbars, detachable swan neck towbars and swan neck towbars.
Buying Your Motorhome Accessories With Travelworld Motorhomes
For any kind of motorhome accessories, your first stop should be Travelworld Motorhomes. Not only do we have an impressive 10,000 sq ft service centre but we also have the knowledge and experience to give you the useful accessory advice you need.
From choosing the right towbar and getting your windscreen fitted to full services and motorhome MOTs. We can offer you the full range of motorhome aftersales facilities. Please get in touch with one of our team today on 0844 808 4938.