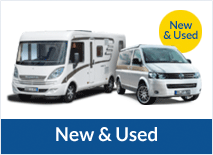 Buying a motorhome is often a big decision for both couples and families. If you are wondering just why motorhomes are becoming so popular then let us share with you some of the most common reasons why our customers purchase our motorhomes time and time again:
A home from feel. Other forms of camping are clearly lots of fun but not all can offer the ability to holiday in the great outdoors alongside maximum comfort and luxury. You can have the best of both worlds in a motorhome and you also have the option to travel for longer periods of time without craving the need to return to home comforts you missed while sleeping in your tent.
Spontaneity. If your motorhome is already packed with the basics and has been prepared for travelling, then you are able to take off whenever you like, simply needing to stock up on some fresh food before you travel. This makes motorhomers feel liberated and spontaneous – what holidays are all about!
Variety. There are so many different kinds of motorhome available on the market that you are spoiled for choice. From luxury Niesmann and Bischoff motorhomes with slide outs; flat screen TVs; king sized beds and deluxe kitchen appliances to nippy; economical and independent Hymercars with pop up roofs and unique space saving solutions. With a plethora of floor plans available in all the different brands, ranges and models, as well as a multitude of different campsites throughout the UK and Europe to choose from, owning a motorhome is a completely different experience from one owner to the next.
Costs of Buying Motorhomes
The cost. The cost of motorhoming means that it is more viable to have a greater number of motorhome holidays throughout the year than taking several package holidays. If you want to cut down the cost of your holiday all you have to do is stay closer to home and the cost of the fuel will decrease immediately
Family flexibility. Children's meals can be kept healthy and cheap when you are on a motorhome holiday. You can make as much or as little as you like meaning there are less uneaten meals for the sometimes fussy little eaters in your family. Also, children like to move around and need to space to do this. Inside a hotel room or on the balcony just isn't safe and there isn't enough space. The room outside your motorhome is endless and you can easily keep an eye on your little ones while still being inside your motorhome. In addition, your pets are more easily taken away with you when you have a motorhome holiday. There are many pet-friendly campsites and the cost of putting them in kennels is also eliminated