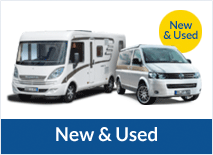 The terms 'pusher' and 'puller' motorhomes are used to describe the position of the engine inside a given motorhome. Derived from the United States, the terms are useful to know when researching. Knowing the difference between pusher and puller motorhomes will help you choose which type of motorhome is best for you.
Pusher motorhomes
Pusher motorhomes are sometimes referred to as Diesel Pushers and have a diesel engine mounted at the rear of the vehicle. Pushers are usually more luxurious, larger, over 7 .5 tonnes in weight and are built on a bus chassis.
For those travelling in groups of large families, it is worthwhile remembering that pushers are more powerful and they are more fuel-efficient than pullers. If you are travelling long distances then it is good to have a larger than the average-sized tank that a pusher offer as well as the strength to tow while maintaining low fuel costs.
Running costs are higher in pushers and getting in and out of restrictive areas can be difficult at times. However, most owners of diesel pushers are aware of these things before they buy and often place more importance on the luxury, desirability and durability of their motorhome.
Puller motorhomes
The basic difference with a puller motorhome is that the engine is at the front of the vehicle. Pullers are usually lighter and are usually built on a van chassis.
Diesel engines are, by definition, noisier than petrol engines and this noise is sometimes more audible at the front of your motorhome. The look and design of a puller are defined by its truck-like appearance at the front.
Looking For A New Motorhome?
Travelworld is one of the UK's leading motorhome dealers with an extensive range of German motorhomes for sale at their Telford, Shropshire, Midlands motorhome showrooms. You can either visit them to get a feel for the real thing or you can view their stock of motorhomes for sale online. With HYMER, Carado, Dethleffs and Niesmann + Bischoff, available, you will be sure to find the motorhome you are looking for. Not sure what is the best motorhome for you? Get in touch with our expert sales team.
Need Motorhome Servicing?
Travelworld have a state of the art NCC approved workshop and offer a range of motorhome servicing solutions for vehicle owners. In addition, they are able to help with motorhome windscreen replacements, motorhome MOTs and accessories.