Fishing enthusiasts Martin and Jayne Crabb knew exactly what they wanted when they walked through the doors of Erwin Hymer Centre Travelworld – and they couldn't be happier with their luxury motorhome.
Having earned their camping stripes by previously owning trailer tents, caravans and camper vans, the Crabbs were ready to progress to the convenience and comfort of a motorhome.
Jayne took responsibility for sourcing the perfect luxury motorhome for their needs and decided upon the HYMER B-Class Premium Line 668, which they collected from Travelworld in early 2021.
Jayne, 66, said: "We had a pretty clear idea what we needed. We wanted a double floor so that we can get away in the winter, so that immediately narrowed the options.
"The layout was the next priority. We wanted fixed single beds and the bathroom across the back. We did look at some which had steps into the bed but Martin needs a knee replacement so they were ruled out. The size of the shower was also important.
"We wanted a four berth for the grandchildren and we were also keen on an automatic.
"Taking all of this into consideration, we settled on the HYMER B-Class Premium Line 668 and there was a used vehicle available from Travelworld.
"We couldn't be happier. It's an excellent motorhome and is perfect for us."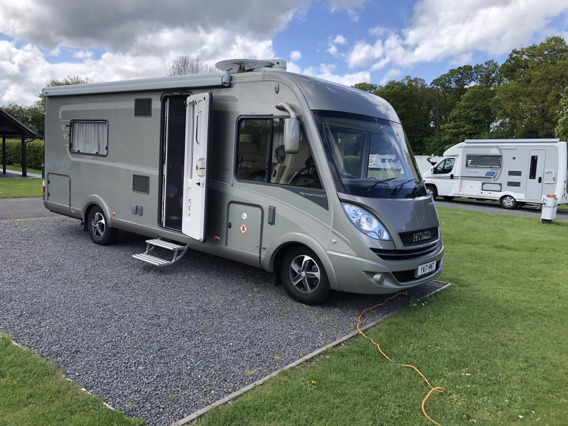 Martin, 68, added: "It feels like a quality motorhome with comfort and reliability at the heart. It's got that bit of luxury we were looking for."
The Crabbs, who live in Warwickshire, have wasted no time in putting their HYMER motorhome through its paces with trips to Kingsbury Water Park, the Malvern Hills and Herefordshire.
In the not-too-distant future, the couple hope to re-visit France and Italy.
They tend to stay close to fishing lakes to wile away the day with a rod in hand, and they also enjoy walking.
With eight grandchildren, there is likely to be plenty of interest in making use of the over-cab double bed.
"We've already taken our 16-year-old grandson Cameron away fishing," said Martin. "He loves being in the motorhome and out in nature."
And Jayne, a property manager, even manages to squeeze in a bit of work on their travels.
"The HYMER has mobile WiFI which is a nice bonus as it means I can do some work while away," said Jayne. "That's proved really useful."
Erwin Hymer Centre Travelworld stock a range of new and used motorhomes from a range of popular motorhome brands. The dealership also has German camper vans for sale. If you are looking for your perfect luxury motorhome, contact us to find out how our sales team can help you today.