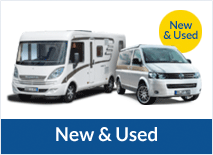 Are you stuck for something completely new and romantic to do for your loved one this year? Or perhaps you are looking to impress that new and special person in your life? If so, it's definitely worth thinking about taking your Valentine for a starry-eyed weekend spin in your motorhome.
Touring with your motorhome means you can grab the romantic spirit by the horns and be completely spontaneous. There's no flight-booking to keep secret; no travel tickets to hide and no real worries about the weather stopping you from taking off.
Taking your partner on a romantic surprise break will not only give you serious brownie points but it won't cost a King's ransom and there are some of the most romantic destinations on earth right here in the UK.
Check some of these dreamy destinations for inspiration:
Stratford Upon Avon
Stratford-Upon-Avon in Warwickshire is the birthplace of one of the most famous romantics of all time, William Shakespeare. Positioned next to the River Avon, the area is one of the most visited tourist places in the UK. The Royal Shakespeare Theatre is positioned next to five Tudor Shakespeare houses and gardens. As well as the history there are also some beautiful sights to behold, including the impressive and quaint countryside scenery, vineyards and canals. Couples can enjoy a leisurely bike ride along one of the many cycle paths or simply relax in one of the health spas located in the town.
Dodwell Park is a motorhome- friendly site which is situated just two miles from Shakespeare's birthplace and all other attractions in Stratford-Upon-Avon, including Warwick Castle. Set in the countryside, the site offers peace and tranquillity. On site facilities include; dishwashing, hairdryers, a site shop and an off-licence.
Oban
Oban is one of those places that visitors instantly fall in love with. It is widely acknowledged as the Seafood capital of Scotland and there is no shortage of romantic eateries in and around the town; it even has its own malt whiskey distillery. Oban also has many other activities available including a golf course; a cinema plus a host of bars and restaurants.
Oban Caravan and Camping Park is set in Gallanachmore by the sea with beautiful views. The location makes you feel as if you are both a million miles away from everyone yet you have access to all the facilities you need being only three miles away from Oban. Facilities on the site include; wi-fi; a TV games room; a shower block; a well-equipped campers' kitchen and a shop where you can buy groceries.
Northumberland has a rugged and wistful appeal to it that would make even the most reluctant romantic's heart skip a beat. Home to Hadrian's Wall, there are many different areas of outstanding natural beauty to be seen in this corner of the country. The surrounding Tyne Valley area can be explored on foot or bike
Meadowhead's Waren Caravan and Camping Park is set in four acres of grounds and is only two miles from Bamburgh Castle. It is located in close proximity to Berwick-Upon-Tweed and Budle Bay Nature reserve and is only a short walk from the sea. The site has space for 180 pitches and there is a wide range of facilities with many electrical hook ups available.
Brighton
Uber cool Brighton is a hive of alternative and fun filled activity for the adventurous romantic motorhomers. It is a vibrant place to love and is home to a festival of things to do; there are stunning beaches, including the famous pebble beach; the Victorian heritage, manifested in picturesque seafronts and piers, including Brighton Pier. Brighton Wheel, the Royal Pavilion, and Victorian aquarium and Brighton's Old Town Hall are some of the most famous attractions.
You can take a romantic walk from the Town Hall to the Royal Pavilion where you can discover Brighton's Old Town. Or you may like to meander over to the Palace Pier and browse through the unique and quaint shops and streets on your way to the famous pier.
The Barn Caravan Park is based in Lancing in West Sussex and has been growing in popularity since it opened in 2003. It is an average-sized campsite and its owners make sure there is a strong element of peace and calm to the site. Brighton is just seven miles away and there are many beaches also in close proximity. The site benefits from newly installed toilets and showers where there is free hot water. On site there is also picnic tables and barbeque areas. There is a train station located around a mile away also.
If you would like to know more about places to go in your motorhome this year then please get in touch with our experts at Travelworld. Call us on 0844 880 4938.