Niesmann + Bischoff is celebrating this week following a fantastic win of the Best Luxury Motorhome Award at the MMM Motorhome Awards on Monday evening.
The Flair 920LF was the winner of the total luxury 'Liner Range' which features a completely re-designed exterior, new for 2015. The updates to the Flair have allowed it and its sister range, the Arto, to captivate the European Luxury Market, taking a significant market share from the competition.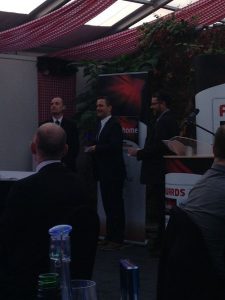 Ross Edwards, Managing Director at Travelworld Motorhomes picked up the luxury motorhome award on the evening. He said: "This award is a great acknowledgement to the hard work that has gone behind the redesign for the Flair. It is also a fitting prelude to what is going to be an exciting 2015 for Niesmann and Bischoff."
The Arto 920 LF Features
The Arto 920 LF is a 4 berth, integrated motorhome that is 9.27m in length and weighs 7,200 kg. It features an Iveco Daily 70 C 17 Euro 5+ chassis and a 3.0 L 4 cyclinder TD 205hp twin turbo.
It features up-to-the-minute body styling with Champagne as a body paint option. The island bed sits above the garage and there is a newly designed dash board. Other features include:
A Home Theatre System
Twin lens reverse camera
Ambience lighting
Ceramic toilet
Oyster Satellite navigation
Electric main awning
LED road lights
Heated towel rail
Rear and mid LCD TV
At Erwin Hymer Centre Travelworld, we have a wide range of luxury motorhomes avaliable, view our full selection of Niesmann + Bischoff motorhomes.