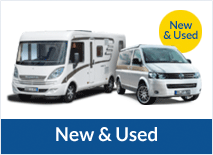 Whether it's a compact, eco-friendly van conversion or a spacious and imposing large motorhome, the interest in motorhomes has always had a secure fan base. However, with possible signs of an emerging economic recovery for the nation, could the interest in motorhomes be causing a sizeable shift in mainstream holiday choices?
Factors Contributing To Popularity of Motorhomes
If so, then there are a number of factors that could have contributed to reports of a new spark in the motorhome industry.
The 'staycation' has become a popular topic of conversation for many. Where to go, how to get there, what to take; it's opened up a world of adventure, particularly for families new to the idea of camping. Stemming from the need to tighten holiday purse strings, the concept of staying home for holidaying has provided the opportunity for all kinds of motorhome trips and travel. The word alone has become part of mainstream journalese, further expanding the interest in camper vans and motorhomes as a holiday choice
The baby boomers ( those born between 1946 – 1964) have contributed to a larger ageing population. With the average motorhome enthusiasts being approximately 46 years old, the projected interest in motorhomes is set to propel sales even further in future years
The glorious weather, who can forget that? We have had record hot weather during the summer with temperatures reaching the hottest since July 2006. Many have celebrated the idea by reaching for the nearest motorhome magazine or website in search of the ideal motorhome to share a sunny adventure with. According to Out and About Live's website, the portal was hit by a record number of visitors interested in motorhomes during the heatwave
Glamping is short for Glamorous Camping and there is no better way of bringing glamour to camping than in a motorhome. Glamping has become the cool way to camp for celebrities, festival lovers and those seeking 5 Star luxury on the move
The popularity of the van conversion with families has also soared. Smaller and lighter motorhomes are seeing an increased interest with families and couples as the focus on lowering fuel consumption to grow