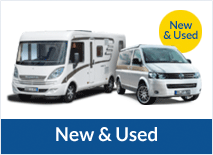 Large motorhomes offer an idyllic way of experiencing the British landscape. Having motorhome luxuries and facilities on hand provides solace whether your location is remote or busy.
Driving a large motorhome is quite a different experience from driving a car so before you begin your trip it's worthwhile doing a bit of research beforehand.
How restrictive is it to have a large motorhome?
A large RV can weigh anything from 6,804 kg to 13, 608 kg. It is important to know the weight of your vehicle both when loaded and unloaded so that you have the correct tyre pressure
You can check the weight limits of your specific RV by looking on the sidewall of your tyres
It is also prudent to know weights when travelling through Great Britain. Old and picturesque villages are often part of the appeal. However, be cautious as many historical roads and bridges are not designed for motorhomes
Size and weight restrictions exist on many major roads too; anything lower than 10 feet high or 6 feet wide and you could have problems. Go online to find out of there are any restrictions on your planned route
In order to legally drive a motorhome you will have to pass a heavy goods test. Once you have passed it you will have a Cat C1 licence for vehicles weighing between 3.5 and 7.5 tonnes. Anything above 7.5 and you will require a Cat C licence
<li
Lots of American motorhomes are left-hand drive which can make it more demanding, particularly on those tight bends. Practise on some quiet roads if you are new to driving a motorhome
Reaching higher speeds in motorhomes will take longer but remember not to over accelerate. Motorhome speed limits are different from car speed limits: 60 mph on dual carriageways and 50 mph on single carriageways
Do all UK campsites accept large motorhomes?
Most UK campsites do accept large motorhomes but there can be restrictions. Some Winnebagos can be over 36 feet therefore pitch sizes need to be larger. During busy spells there can be problems with availability.
It's worthwhile pre booking your pitch so you know you have somewhere to stay after your journey. Many UK camping and RV enthusiast websites are available to check out some of the best RV campsites.
Don't forget there are also motorhome stop over locations all over the UK. These are often for a limited time only (usually 48 hours) but can be very handy on long journeys when using large motorhomes in the UK.