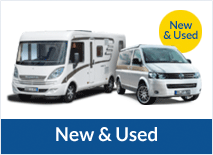 Driving can be ominous at the best of times, but if you're someone who needs that extra bit of reassurance, don't worry. Getting to grips with driving and manoeuvring your Motorhome is all part of feeling even more at home. Of course, practice makes perfect, but if you're dreading the thought of that tricky corner, help is available.
If you're teetering on the edge of a purchase but holding back because of the prospect of having to move such a large vehicle, then you can always ask for a test drive. Or, if you already own a Motorhome, ask us to advise you on courses available. Often, with some digging, you can find friendly led courses which will keep you up to scratch with your Motorhome manoeuvring. More confidence will lead to more relaxation on your dream holiday.
Motorhome Driving and Manoeuvring – Top Tips
When driving any vehicle that's larger than an average car, you'll need to take that little bit of extra care when mirroring the movements of a smaller vehicle. Turning, breaking, accelerating and parking are all relevant when taking into account the size and weight difference. You need to give yourself a little more time and space for everything that you do. For instance, breaking earlier and accelerating more slowly will all be factors in handling your Motorhome safely.
Motorhome Manoeuvring Tips
In most cases, when driving your Motorhome, make sure to remember the following:
Take corners more widely – don't forget, your vehicle is long and may clip kerbs or cut corners
Break earlier
Accelerate more smoothly and slowly than you might in a car
Check the legal speed limits in your Motorhomes weight category
Pull over in a safe place if you are causing a backlog of traffic
Be careful when overtaking motorbikes, cyclists and horses, especially if your vehicle is high sided
Park delicately in a safe place. It's important to remember the size of your vehicle. Often car parks have a height barrier, so if you're using one, know the height of your Motorhome before attempting to enter.
Advanced Driving Courses
It may also be beneficial to attend an advanced driving course which is operated by the ROSPA (The Royal Society For The Prevention Of Accidents), or a course operated by the IAM (Institute of Advanced Motorists).
Reverse Cameras And Parking Sensors
If in doubt, you should also consider looking at reverse cameras and parking sensors. Travelworld Motorhomes fit these as an accessory and if you require further information please do not hesitate to contact us.
Travelworld – Luxury Motorhome Specialists
As well as getting it right on the manoeuvring, remember that you will need the correct entitlements on your full driving licence to drive safely and legally. Please get in touch with the team at Travelworld to find out more about manoeuvring and indeed, any other questions about your RV or motorhome. Please contact us on 0800 808 9740 for more advice and information.