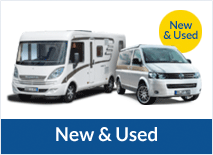 Motorhome immobilisers are popular and well-known forms of motorhome security, often used in combination with other devices. They are a good deterrent for thieves who have managed to gain access to your vehicle.
Almost all new motorhomes will come with a Thatcham Category 2 immobiliser already installed.
How do they work?
Immobilisers can be fitted retrospectively or during manufacture. They work by stopping the starter motor, fuel system, ignition or a combination of these when there is an attempt to start the engine.
Each time your engine switches off the immobiliser is automatically activated. A key or code is required to get the engine going. Most products can also prevent hot-wiring by having dual circuit immobilisation.
One of the most commonly used motorhome immobilisers is an electronically coded key fob called a Touch key which starts the engine when the fob is inserted on the dashboard. A wireless transponder immobiliser may also be used and works by delivering a signal remotely to start the engine.
Thatcham Security is the UK authority on vehicle security systems. It categorises different levels of security including tracking devices, alarms and immobilisers.
The security categories are decided on by assessing the combination of security measures as opposed to one device alone.
All immobiliser products available on the market from various manufacturers are reviewed annually by Thatcham to make sure they are up to standard. Any new products are tested rigorously which helps determine their category and information for insurance companies.
Getting your motorhome immobilisers fitted
Motorhome immobilisers can be fitted retrospectively by our technicians at Travelworld RV.
If you have an immobiliser already installed then it will be more cost-effective to have an alarm fitted as this will work in tandem with the immobiliser to form a Category 2 security system.
If you do not have an immobilise and want a Category 2 alarm system you will have to have an integrated unit installed including an immobiliser and alarm.
For further advice on security systems for your RV please call our aftersales team on 0844 880 3482.