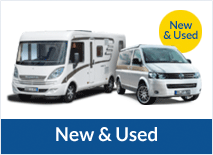 Motorhome travel usually brings out the best in us: it sharpens our navigation skills, inspires our sense of adventure and occasionally, just occasionally it can bring out the great British eccentric in us too.
You only need to look at some of the latest news to see that there has been a certain unconventional feel to some of the latest new look motorhomes and campervans.
Have a look at some of our favourite quirky RVs:
The Less Is More Motorhome
By less, we mean, less room, more manpower. The mini mobile motorhome, believed to be the smallest in the world was built by Andy Saunders from Dorset. The self-confessed car fan has built a 4-foot motorhome powered by pedals. It has room for 4 seats inside, a hob, a sink and even a double bed above the driver's seat.
Structurally, this mini-me motorhome is made up of a Bedford Bambi van and a pedal cart. Andy says that the van took two weeks to build and cost £1000 and isn't aware of any other campervan that is as small. He says: "It is a little cramped but it's all good fun, everyone who sees it says 'wow'."
The 'jeanius' motorhome
As we know, motorhomes can 'work' most trends and denim is no exception. If it's interior comfort with a bit of flair you're after then what better than to 'slip into' Paul Millard's 1966 VW campervan with its denim soft furnishings. The van is conventional on the outside but inside it is fit for a denim king with all different kinds of jean on display.
The vehicle was presented at the Vanwest VW festival in Somerset and soon became a firm favourite with VW fanatics.
The Secret Agent Motorhome
If you like a bit of quirkiness and interest but don't want to tread too far over the line then there is the option of the Doubleback VW Campervan. This vehicle operates as a 'normal' campervan when it is cruising but has a unique 'Thunderbird' sliding technology when you want to extend. Simply flick a switch and watch it grow to almost double its size to 26 feet in under 60 seconds.
When fully extended the rear of the living space is held up with leveling struts. Using sliding technology Inside there is room for five people to sit with standards including cooker, fridge and lifting roof. A flat screen TV, roof beds and DVD players are optional extras.