The ultimate in luxury, the Flair stands alone in the "Liner" motorhome class
Niesmann + Bischoff Flair
Oozes quality and design from every pore.
Automotive design for new destination
When on the road with the Flair you will want for nothing. Choose from a wide range of options to make your trip a delight — including an infinitely variable 8-speed automatic transmission, air suspension seats and 4-channel full air suspension.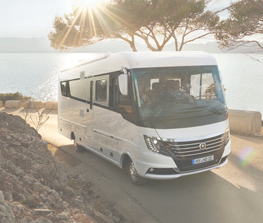 Niesmann + Bischoff Flair Models
Browse through the Niesmann + Bischoff Flair models