The ultimate in luxury, the Flair stands alone in the "Liner" motorhome class
Niesmann + Bischoff Flair
Automotive design for new destinations, The Flair stands alone as one of the highest specification motorhomes in the world and oozes quality and design from every pore.
Automotive design for new destination
When on the road with the Flair you will want for nothing. Choose from a wide range of options to make your trip a delight — including an infinitely variable 8-speed automatic transmission, air suspension seats and 4-channel full air suspension.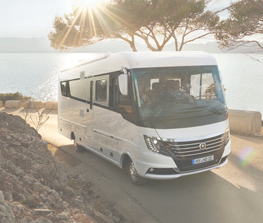 Niesmann + Bischoff Flair Models
Browse through the Niesmann + Bischoff Flair models
Latest New and Used Niesmann + Bischoff Flair models available from stock
There are no vehicles to show