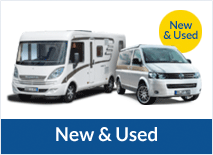 If you are England-bound for your half term motorhome break this year then here are some suggested destinations covering all four main corners of the compass:
The North. One of the most popular destinations in the north is the Lake District. With towns and areas including Keswick, Kendal and Ambleside, there is no shortage of places to visit in your motorhome, all offering something different. Remember that some of the roads are quite narrow in these areas so it is worth checking with campsites for motorhome accessibility beforehand. The views in this part of the country are spectacular and the A591 which runs from Windermere to Keswick is widely considered to be one of the most beautiful roads in the country. Park Foot Caravan and Camping Park in Penrith is just one campsite that welcomes motorhomes.
The South. The South Coast of England simply cannot be ignored when considering where to go on your half term motorhome break. Cambrose Touring Park in Cornwall, Pennymoor Campsite in Devon, Sutton Vale Caravan Park in Kent and Red Shoot Camping Park in Hampshire are just some of the many campsites which welcome motorhomes. There is oodles to do at this time of year and it is worth checking out the tourism websites detailing the seasonal events on offer. Exploring the history and culture of this part of England will keep the children entertained. With castles, art galleries, theme parks, railways, not to mention beautiful beaches, there is no limit on things to do.
The East. On the East Coast of England you will find an abundance of motorhome holiday attractions. These destinations include all round holiday favourites like Cleethorpes, Skegness and great Yarmouth. The Lincolnshire coast is one of the most popular locations for motorhome enthusiasts all over the UK and there are acres of things to do for children along the whole east coast stretch. Thorpe Park Holiday Centre in Cleethorpes and Wild Duck Holiday Park in Great Yarmouth both welcome motorhomes along with many other campsites in the area.
The West. If you are thinking about taking your motorhome to Cheltenham, Warwickshire, Herefordshire or Gloucestershire you won't be disappointed. Dodwell Park in Stratford-Upon-Avon and The Willows in Tewkesbury are both motorhome friendly with a range of different facilities available. Mobile holiday makers can have a heritage and culture-fest in this part of the country with attractions including Warwick Castle, Cheltenham Race Course, Shakespeare's Birth Place and a whole host of other animal and farm attractions, parks and gardens to choose from.
Looking For A New or Used Motorhome For Sale?
Here at Travelworld Motorhomes we sell a wide range of British, European and American motorhomes (new and used). Why not view our stock for sale online, or contact us to visit our Telford, Shropshire motorhome showrooms. As one of the UK's leading motorhome traders and dealerships, you'll find our team of specialists experts in a range of brands including Hymer, Chausson, Neismann + Bischoff and Auto Trail models and ranges.
If you are already a motorhome owner, why not visit our motorhome owners section on the website where you'll find a range of services including spare parts for your vehicle, windscreen replacements, servicing and repairs at our NCC Approved Workshop.