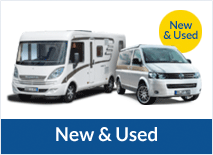 With only a few weeks to go before the schools break up for the summer holidays, some of you may already have started planning your motorhome trip. Many sun seekers have decided this year to snub hiking flight prices during peak season and have plumped for a hot sunny break in their trusty motorhome.
We have detailed below three main areas where we get asked questions from our customers who are thinking about a family break in their motorhome or camper van.
Devices: if your kids are getting to an age where they feel disconnected when they are not online or if you feel faint at the thought of a poor signal then it's worth considering an external antenna mounted to the side or the roof of your motorhome. If you are taking a laptop you could opt for a dongle which will connect to your USB port on your machine. Also, make sure that the campsite you are going to has wi-fi – you can usually check out the reliability of the connection and associated cost on trip advisor or other campsite review websites
Pets: if you are taking your pooch along with you on your motorhome trip then there are various things to bear in mind. Namely, take some anti-slip food bowls in case your dogs needs to have dinner while you are on the move; if your dog is anxious about new places, try getting him/her used to the motorhome by introducing it before you go on holiday so it's not too much of a shock; also, kitting your dog with a GPS collar may sound extravagant but if your dog is likely to roam then it could save you a lot of worry and stress while you are on holiday
Young children and babies: you may think that a toddler/ motorhome break is not the most conducive combo but with the right planning it can prove to be a fantastic holiday experience for you and your little ones. Make sure you think practical; check before you go away that your campsite destination has suitable family bathrooms/baby changing facilities; there are convenience stores close by; cafes and restaurants with play areas; facilities for washing clothes. Many sites offer the hire of high chairs and play pens which can save you having to load up your motorhome and take it with you
Travelworld Can Answer Your Motorhome Questions
With decades of combined industry knowledge, the Travelworld team is familiar with all kinds of questions and queries to do with camper vans or motorhomes. If you would like us to impart further knowledge or information then please come and visits us in our showroom and we will be more than happy to help you out. Alternatively, you can call us on 01785 878787 or contact us via our Contact Us.