Dawn and Mark Naylor had a pretty close shave when they first encountered Erwin Hymer Centre Travelworld.
An afternoon which began with Mark anticipating going for a haircut ended up with he and his wife visiting Travelworld – and purchasing a Carado T135. Not quite how they expected their day to turn out!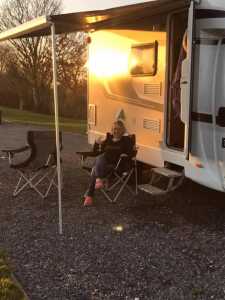 Dawn explained: "We lived in Telford at the time and I was with Mark when we unexpectedly found the hairdressers closed.
"We knew Travelworld – which was then based in Telford – was very close by so we decided to visit and have a look around.
"We had a motorhome at the time but that afternoon we decided to buy a new one. It was a case of leaving the house expecting a haircut and coming back with a new motorhome!"
It proved a wise purchase as the Naylors fell in love with their Carado vehicle, so much so that they returned to Travelworld two years ago – by this stage now in its current Stafford headquarters – to purchase another of the brand's flagship models, the T449.
Dawn added: "We love the Carados. They are a fantastic layout with the island bed and they are so reliable.
"It's German technology and, as Karl (Hudson, a member of the sales team) at Travelworld said, it's bulletproof!"
Dawn and Mark largely keep their travels based around the UK, with parts of Wales and Devon amongst their favourite destinations.
And motorhomes have been very much incorporated into the couple's day-to-day lives.
Dawn added: "We will always take any opportunities to go away in our motorhome – even if it's only for a night or two.
"There have even been occasions when we have used it for work. We were previously both at the same company and worked shifts.
"There were occasions when we would both be at work until 11pm and then be back in the next day so we would occasionally go in the motorhome, when we finished work we would sleep in the motorhome on the work car park ahead of going back in to work the next day. It was an adventure for sure.
"We can't wait for lockdown to end so we can get back on our travels.
"We started off tenting and used to look on in envy at those people in motorhomes. So, we decided to take the plunge and buy one and, since then, we never looked back."
Dawn is full of praise for the experience they have received in regular visits to Erwin Hymer Centre Travelworld.
She added: "The team is very knowledgeable and very experienced and also make you feel so welcome. There is a lovely feel about the showroom.
"There is no other place we would choose to go for our motorhomes."