As fans of the high life and five-star hotels, Simon and Sarah Curtis had never considered owning a luxury motorhome,
From New Zealand to South Africa, the couple were well-travelled and accustomed to luxurious accommodation.
But when the pandemic struck Simon and Sarah, from Chester, both needed to shield from the rest of the population and started thinking how they could get away while minimising risk.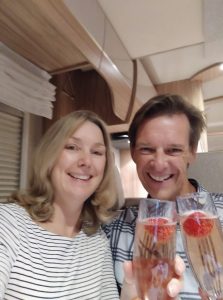 Surprising even themselves, they bought a HYMER T CL 698 from Erwin Hymer Centre Travelworld – and, in between lockdowns, they have fallen in love with the motorhome lifestyle.
Simon, a 57-year-old IT manager, said: "Buying a motorhome was something we never would've dreamt of doing.
"I have never been camping, caravanning or motorhoming in my life. Sarah's parents had a caravan, used it twice, hated it and sold it.
"We've tended to have had luxury holidays and we've stayed at some amazing hotels.
"But when the pandemic hit, we found ourselves in a bit of a situation. We had a couple of holidays cancelled and I, as a transplant patient, was shielding, and Sarah was being careful too as she's had a heart problem in the past.
"That was when the notion of a luxury motorhome first came in our minds."
The couple considered hiring one for a couple of weeks to see if it was for them but were put off by the prices.
They decided to buy and embarked on a UK-wide search for the right vehicle within their £50,000 budget.
"We saw some amazing motorhomes but they were just too expensive," said Simon. "We decided to look for something older.
"We were driving back home to Chester after seeing some friends, Sarah was looking online and happened to see a second-hand motorhome from HYMER at Travelworld.
"We rang Travelworld and they were able to fit us in for an appointment. As soon as we walked inside the HYMER T CL 698, we fell in love with it. It was light, airy, had a feeling of space and high quality throughout. We knew it was for us.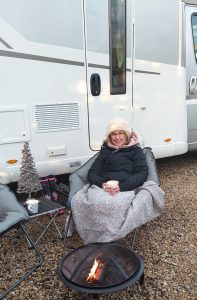 "Stephen Baskerville at Travelworld has been amazing and has helped us newbies all the way."
Despite being over budget, Simon and NHS Bio Medical Scientist Sarah took the plunge and put a deposit down on the 3,500kg semi-integrated motorhome model and even added some upgrades, including solar panels and a Gaslow system.
They've since named the HYMER 'Betty', embarked on trips to CL sites in Anglesey, The Lakes and Shropshire and are planning more adventures this year.
"It's been an absolute game-changer," said Simon. "The whole thing has been amazing. I can't believe we didn't consider it sooner.
"It feels like a home on wheels. We're looking forward to exploring France and Spain in the months to come, as well as other parts of the UK.
"I can't tell you how happy we are. We're certainly planning fewer luxurious holidays and more time in the motorhome."
In the future, Simon and Sarah are even thinking about buying a larger motorhome and downsizing their property to enjoy even more time together on the road.
But for now, they're just enjoying getting to know Betty.
Erwin Hymer Centre Travelworld have a range of luxury motorhomes for sale, to visit our website.