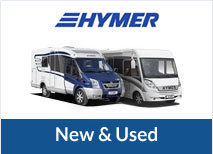 If you are looking for a motorhome or van conversion that helps keep your waistline at a minimum then it's a good idea to avoid one of the latest quirky camper conversions.
Loaded up with homemade cakes, biscuits and all things sweet, the Daisy making Cake Company from Surrey has made the latest in a list of unusual camper van conversions.
Bronya Seifert and her husband Jules have converted a motorhome to make their business more mobile, allowing it to travel to exhibitions, shows and markets. The services of the unique van conversion also extend to hen parties, baby showers and children's parties.
Bronya says: "We started looking at ideas for mobile catering vans or trailers but didn't really want to go with the usual modern trailer. The Daisy Cake Company needed something with more character.
Choosing A Van Conversion From Travelworld
Looking for a camper with a difference need not involve as much work as the Daisy Cake Making company's. Travelworld RV stocks a wide range of new and used European van conversions, each offering something different.
Below is a small sample of the van conversions we have in available at Travelworld:
The Hymer Van Series 562 is part of Hymer's van series range. It is a 2 berth with and end bedroom layout and has 4 seat belts on board for extra passengers. Other features are the Vario luxury bathroom, the Electrical Management System with Automatic Charger and pear wood furnishings
The Autotrail V Line 600 is new for 2014. This 2 berth motorhome is under 6 m in length, has a Fiat Chassis and Fiat 2.3 TD engine ( Euro 5 compliant) all of which make it fuel efficient and ideal for cheap ferry crossings. It also features a raised roof for maximum headroom, a roll out awning, 65 litre fridge and 70 litre fresh and waste water tanks
The Chausson Twist 02 is another popular choice of 2 berth van conversion. It comes with panoramic skylight, cab air conditioning, athermic windows and defrosting electrical rear view mirrors as standard. It is 5.99 m in length, has seating for 4 passengers and comes with a rear double bed and front single bed
If you would like to know more about the van conversions we have available in both our new and used departments then please get in touch with one of our motorhome experts today on 0844 880 4938 or click here for the contact page.