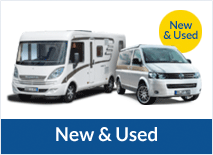 The best motorhomes for couples are a highly diverse collection of models catering for wide range of differing needs couples often have.
Travelling duos often have more freedom in their excursions and therefore have a diversity of vehicles to choose from.
Popular motorhomes for couples
Some popular vehicles for couples on the move include the Chausson Flash 49 with a moveable bed which hides in the roof space while you are entertaining friends and comes down for sleeping when they have gone.
Or you may prefer the Niesman Bischoff Arto 79 R; the luxury brand with a vast array of accessories including satellite navigation, Bluetooth and a home theatre system available.
Auto Trail's Apache 700 is well-liked by couples who enjoy entertaining. It has a separate toilet and shower and sitting and dining spaces at both ends of the vehicle.
If you are an adventurous couple looking for a steady base with all your amenities catered for then the Hymer Compact 404 could be for you. This 2 berth 3.5 tonne lightweight with front swivel seats and panoramic roof light is perfect for the couple who look forward to comfort when returning from their activities.
Buying your motorhome from Travelworld RV
If you are a couple looking for luxury and comfort when you travel to warmer climates or if you want a motorhome that affords you the flexibility of inviting friends and family then Travelworld RV is able to offer you an array of different RVs available to you.
New or used, small or large, our sales team can speak to you about the best motorhomes for couples. More importantly, we can discuss with you the best motorhome for you and your particular needs. Travelworld have a wide range of motorhomes for sale, both American and European models. Please call us today on 0844 880 4938.