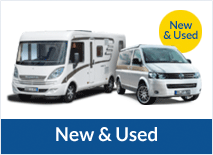 New controversial car park barriers have been put up to stop motorhome owners from parking at well-known Lincolnshire coast beauty spots.
The barriers which mean that large high sided vehicles can no longer access the coastal car parks, have been erected by the local council and are designed to prevent visitors from using the area as a free camping spot.
Following the action, many motorhome owners began a sit-in protest to highlight their unhappiness about the new moves.
In a BBC news report, a local councillor from the area, Stephen Palmer, said that he believes the barrier erection has come as a result of 'their own selfishness' citing a recent bank holiday where other people couldn't access the area because of the high volume of large vehicles.
Motorhome Owners Angry At The Council For The Barriers
The final barrier to go up was installed two weeks ago after some motorhome owners had got inside the cordoned off area before the barrier was installed. The barrier came down on Tuesday to let them out.
One motorhome owner said that the barriers infringe on human rights, stating: "I didn't purchase my motorhome to go on campsites. The right to roam, I feel, is my personal liberty as a human right.
Another protester said that he felt 'a little bit discriminated against because we can't go now and have a look at the wonderful views', however, he did agree that the areas should not be used for free camping, adding that motorhomers simply want to be able to go there during the day. He said: "What we are asking for is to be able to go up there in the daytime," he said. Obviously we have camped up there, but we have never been challenged and told that we couldn't."
Motorhomers Return To Prohibited Site
Since the news, some motorhome owners have returned to the site in order to request a meeting with the local council. Owner, Bob Palmer said: "We are the salt of the country and this is one step too far. Not one official has come to speak to us – we want a full debate with a local councillor."
Local Councillor, Colin Davie said that Lincolnshire County Council intends to carry on with the preventative measures it has taken to stop damage being done. He said: "The public want us to look after this site for the majority to enjoy – those who are still there will be removed."
About Travelworld Motorhomes
Travelworld stock a wide range of new and used motorhomes for sale, including leading brands such as Hymer motorhomes, Niesmann + Bischoff, Auto Trail and Chausson vehicles. If you are interested in any of our vehicles, contact our team of experts and specialists on the telephone number above. You are always invited to visit us at our Midlands showrooms, in Telford, Shropshire.  For existing motorhome owners, visit our servicing, repairs, windscreens and parts section of the website.