After size and weight, layout will probably be the most important consideration when looking for a new motorhome.
There are a few different options to consider. As with all aspects of motorhomes, there's no right or wrong answer, it's all personal preference and dependent on what type of traveller you are. For example, are you likely to spend a considerable amount of time relaxing in the lounge? Are you happy to make the beds up every night or is that going to become too much of a chore?
Here we take a look at some of the most popular layouts and their pros and cons.
French bed
French beds are fixed and generally occupy the back corner of the vehicle. The beauty of a French bed is that is does not need to be made up every night – it's there waiting for you when you're ready after a busy day.
The negative is that it is only accessible from one side, so you might need to clamber over your partner to get in and out. Also, often the bed will be shorter on one side than the other to create a little extra room for the adjacent washroom. That's fine if you're 5ft 4" and your partner is 6ft – not so great if you're both tall, where some leg overhang is likely.
Island bed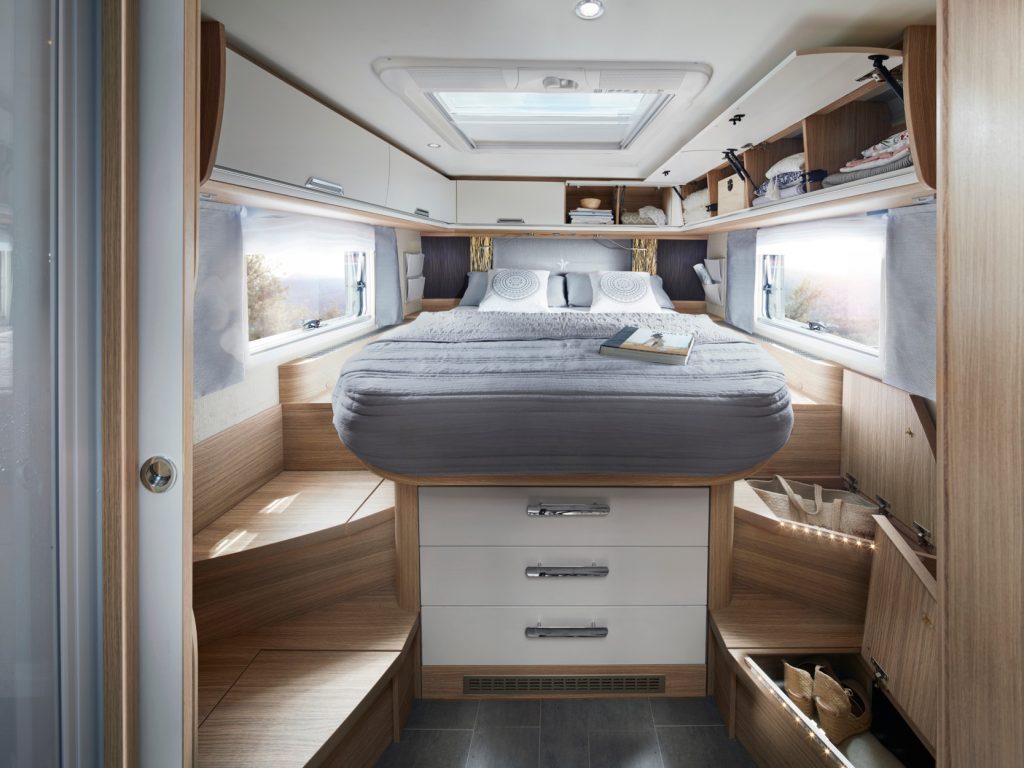 Island beds are very popular today and offer easy access from both sides of the bed, without having to disturb your partner in the middle of the night. Island beds are usually about 7ft long, offering a good night's sleep.
There's usually good storage under the bed as well. Island beds are often raised off the ground to make room for a garage underneath. Some of our motorhomes – like the HYMER B-Class ModernComfort T 690, for example – even have island beds which can be mechanically adjusted in height.
Non-Fixed Bed
These are motorhomes without fixed beds, meaning you will need to use inserts and cushions to put your sleeping area together each night. Usually, front lounge motorhomes will have swivel driver and front passenger seats to they can spin around and use the table.
Many motorhomes have beds which drop down over the cab, which means you don't have to put the bed together each night. Sometimes these drop downs are even electronically operated, making it even easier. These drop down beds can create a cosy sleeping area.
Rear lounge
Motorhomes with rear lounges are not at all popular on the Continent – but us Brits love them. This is largely down to the weather and the simple fact our friends on the Continent have more opportunities to eat outside, whereas we're more likely to be found enjoying a chicken roast inside as rain patters on the roof.
Rear lounges tend to be large, so they're perfect for families or those who enjoy inviting people into their motorhome for a meal and drinks. With windows all around, there's plenty of natural light – but be aware the motorhome is unlikely to have a large garage, if it has one at all.
There are no fixed beds with this layout so a sleeping area is created by either folding a bed down or using inserts.
The mighty Dethleffs Grand Alpa I 7820-2 is a prefect example of a motorhome with an enviable rear lounge.
Transverse fixed bed
In this layout the bed is at the rear of the vehicle and runs the full width. This means the bed Is probably going to be around 2m in length, which is plenty for all-but the tallest people. You've got the same problem as with a French bed where the person sleeping against the back wall will have to climb over the other person in the bed to get in and out but, if you can live with that, then this could be an option.
This is a good layout for shorter motorhomes, offering good storage and living space.
End kitchen
It's unusual, but you can find some motorhomes where the entire back of the vehicle is devoted to the kitchen. If the motorhome is big enough, the facilities can be similar to a small apartment, allowing the travelling chef to cook up food which wouldn't look out of place on MasterChef.
The downside of an end kitchen is comprised space in the washroom.
Bunk beds
Bunk beds offer the ultimate space saving solution – and kids love them. Bunks can either be found across the back or along one side at the rear, which leaves the front of the vehicle free for grown-ups to use once the little ones have been tucked in.
They're so cosy that the adults might find themselves wishing they were sleeping in the bunks rather than on a converted sofa.