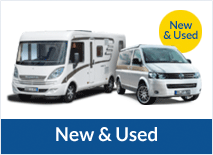 Luxury is often personal: what is luxury to some simply covers the basics for others. However, luxury motorhomes have the ability to conjure a universal picture of a home on wheels that affords space, comfort, design, quality and technological innovation.
Synonymous with luxury motorhomes is the vision of a large, coach-shaped vehicle with all the mod cons on board including large flat screen TVs, generously proportioned bathrooms, slide outs to maximise space and a high quality finish to all interior fixtures and fittings.
For those new to motorhomes, it can be said that you are not simply buying a vehicle that takes you from a to b; you are buying an experience, sometimes a life-changing experience.
What makes a motorhome luxurious?
Each brand of RV has its own range of luxury models. Perhaps an imposing Arto from the Niesmann Bischoff luxury class suits those with an appreciation of the deluxe. With a SPA area, one of the largest showers available and a choice of bespoke layouts designed by an innovative team of German engineers it's hard to argue with what is widely viewed as one of the most superior motorhome ranges available.
Alternatively, a luxury compact vehicle is maybe what you dream of. A Hymer B Class 543 is a popular high-end model which features an end-lounge, LED lighting, and small windows for privacy. As the parent company of Niesmann Biscoff, Hymer AG is well-known for producing motorhomes with a combination of luxury, style and build quality designed to last.
Why are American RVs so much more larger and luxurious than continental motorhomes?
American RVs usually have a slightly different market to that of the continental motorhome. Often the latter will enjoy the freedom to pack up and travel lightly while RV enthusiasts are attracted to the comfort, pleasure and space available. Because of these differing purposes RVs tend to be larger to accommodate all of those amenities.
What is 'German build' quality?
'German build quality' is a phrase often used to describe the high level of focus on the design and engineering of a motorhome manufactured in Germany. These motorhomes are built on the back of market intelligence formed as a result of significant investments in research and development.
Looking For A Luxury Motorhome?
Travelworld Motorhomes stock a huge range of motorhomes, both European and American vans. Why not view our stock from our selection of popular motorhome manufacturers brands.