At Erwin Hymer Centre Travelworld, we explore a trio of new motorhome layouts from Chausson which are now available.
Central Island Kitchen Low Profiles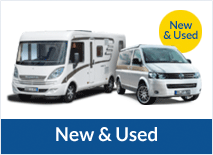 A brave layout move by Chausson paid off when it put its central island kitchen low profile to market. The central work area alongside the kitchen and the roof bed both help create a chasm of space in the hub of the vehicle.
It has been intelligently and thoughtfully designed to provide functionality and luxury. Its main features comprise of a telescopic table stand which is electronically controlled, AES refrigerator; wraparound cab blinds and a five-year water tightness warranty.
Chausson Camper Line Low Profiles
Chausson Sweet Maxi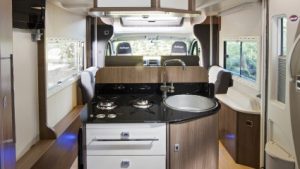 The Chausson Sweet Maxi is a three berth motorhome weighing 3500kg. It is 6.69 metres in length and showcases an impressive combination of a vertical luggage compartment; a maxi refrigerator and an EASY BED adjustable garage. In terms of safety it has a wide track rear axle, ignition interlock system as well as ABS and airbags.
Chausson Sweet Garage
The Chausson Sweet Garage has an easy to clean hob and work top in the kitchen, EASY BED adjustable garage. It is a five berth motorhome with passenger seats and sleeping available for four people. Comfort wise there is automatic entrance cell lights; adjustable head restraints; TV sliding plate plus a dining area that converts into sleeping space.
Chausson Sweet Family
For a separate shower, electric roof bed and 175 L refrigerator, the five berth, 7.39 metre Chausson Sweet Family is the motorhome for you. It also comes with integrated antenna in the rear view mirrors, panoramic skylights, awning lighting LED, pre-wired radio and a cross bar for a bike rack.
Buying Your Motorhome With Us
Buying a motorhome is a big decision that usually involves a lot of research and consideration before purchasing. Whatever stage you are at in the process, Travelworld can help you. We can provide you with more information about the models you are interested in or suggest alternative models in that range.
When you buy your motorhome with us you also gain a few extras including a 12 month motorhome MOT; an engine service; a full interior valet; an exterior clean and polish; damp test and a six month warranty.
We have expert knowledge when it comes to premium brand motorhomes like Chausson and have a good understanding of the new motorhome layouts from Chausson. We also offer sales and services for other brands like Niesmann + Bischoff, and HYMER. Please call our sales team on 01785 878787