We've got some exciting news at Erwin Hymer Centre Travelworld! Our very own marketing executive, Harry Price has taken to the road in his trusty Fiat Panda and traveled all the way to the HYMER HQ factory in Bad Waldsee, Germany.
We know what you're thinking: 'Nice, but an 800-mile trip in a very small car seems a little extreme for a summer holiday'.
But Harry's trip is no short-lived vacation.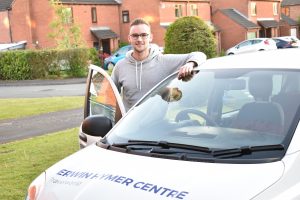 In the boot of his Fiat he's packed all his worldly belongings ready to spend a full year at the capital city of motorhomes….and what's more, he'll be lifting the lid on everything you ever wanted to know about HYMER.
As a 'HYMER Insider', Harry will be working closely with the in-house marketing team on international strategic campaigns, social media and digital communications. He will be able to tell us about upcoming trade fairs and events he's involved with. But before Harry shines a light on what's happening at HYMER, let's put him under the microscope…
What made you decide to take the trip to HYMER HQ?
Harry: Apart from always being intrigued as to what happens at HYMER HQ, the placement actually forms part of my university course in business economics. It ties in really well with what I am doing and it's a really great way to show customers what happens there and how motorhomes are made. Some of our customers have visited the factory and know a lot about the history of all the Erwin Hymer brands but it's great to be a fly on the wall for those who can't get there.
How long will you be at HYMER?
Harry: My trip officially started on the 1st June and I will be here for one year.
Whereabouts at HYMER will you be working?
Harry: I'll be working in the marketing department at HYMER factory in Bad Waldsee. I will also visit the other brand factories we sell, Dethleffs, Carado, Niesmann+Bischoff.
Where will you be living?
Harry: I'll be staying in a small village about 5km away from the factory.
What are you looking forward to most?
Harry: I've always wanted to know and see how the HYMER HQ factory operates! I'm fascinated to see the kind of technology involved in producing these high-quality, yet hugely complex vehicles. Not only the chassis side of things but the habitation aspects too – there is so much to do and consider when making a motorhome, it'll be very interesting to see things first hand.
What do HYMER customers not know about?
Harry: I think very few will know the engineering and constructions of the motorhomes and this is exactly what I'd like to tell everyone about.
Is there anything else about your trip you are looking forward to?
Harry: Definitely! There's lot of stunning scenery around Bad Waldsee, lots of beautiful lakes including Lake Constance which I've heard is beautiful. Also, the two big cities nearby are Munich and Stuttgart, which I will visit and certainly Munich for Oktoberfest!
And how's your German?
Harry: It's a bit daunting having to use another language to be honest, but I have taken a German class at uni and I think being immersed in the culture on a daily basis will speed up my conversational German. German is great language to master in general as the country is so central to business and economics all over the world.
Finally, when can we have a look at the new 2020 models?
Harry: Well, I'm off to the dealer conference early on July 3rd, so I will be revealing all in my blog! Watch this space!
Look out for Harry's regular blog series which will be published on our website and if you have any questions for Harry you can get in touch on: [email protected]