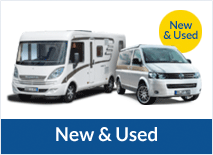 Erwin Hymer Centre Travelworld has forged an exciting premium with leading motorhome levelling and air suspension systems manufacturer, Goldschmitt.
Goldschmitt is known as one of Europe's most revered manufacturers of air suspension components, alloy wheels and hydraulic jack systems and has made Travelworld Motorhomes its sole UK supplier.
Goldschmitt Repair And Maintenance Work At Travelworld
The new partnership allows the service team at Travelworld to offer a range of different servicing and repair work on Goldschmitt products, including:
Supplying and fitting alloy wheels
Upgrading an existing vehicle with self-levelling or hydraulic suspension options
Motorhomes can also be up-rated to ensure they are within legal boundaries
Motorhome Customers Will Have A Valuable Resource
Service Manager at Travelworld, Erik Baxendale is pleased with the new union, stating that the partnership will be a valuable resource for customers who had previously had to have their motorhomes shipped to the Goldschmitt engineering plant in Germany for any repairs or maintenance work. He says: "It's fantastic to be able to remove this barrier and provide customers with a straightforward one-stop service with us."
Comfort And Safety Crucial To Meeting Customers' Needs
Also pleased with the new alliance is Goldschmitt Managing Director, Gunnar Edler, who says that he is happy to be able to work with an organisation that has the same approach to customer values as his own. He adds that the motivation behind all the products is providing comfort and safety to motorhome users and that is why the company has such a strong reputation.
He says: "Goldschmitt Premium Partners undergo strict selection and training to establish themselves and we believe both companies have made an astute investment in customer satisfaction by joining together."
Ross Edwards, Managing Director of Travelworld Motorhomes, says: "We are looking forward to a strong and harmonious relationship with the team at Goldschmitt and we are delighted this has been made official. We are even more pleased at how this will benefit our customers who will now be able to come to us for all things 'Goldschmitt'."
About Goldschmitt
The Goldschmitt brand was first established in 1980 when it began building its reputation as a key manufacturer of spring and jack systems for motorhomes. Its history is sprinkled with success, namely by bringing to market some pioneering products for motorhomes and becoming Europe's number one manufacturer of air suspension components, alloy wheels and hydraulic jack systems.
The company also recently formed a link with leading motorhome manufacturer, Hymer, in 2012. The exclusive union has enabled Hymer to become the first motorhome manufacturer to offer chassis products in its accessories line. Goldschmitt has also used its chassis and engine expertise by setting new motorhome speed records, one of which was a Hymer Car motorhome which reached a speed of 207 km/h in 2010.
You can find out more about Goldschmitt air suspension systems and the services we provide here.