Erwin Hymer Centre Travelworld has received recognition for the exceptional training programmes available to employees.
We were delighted to scoop the Training Excellence prize at the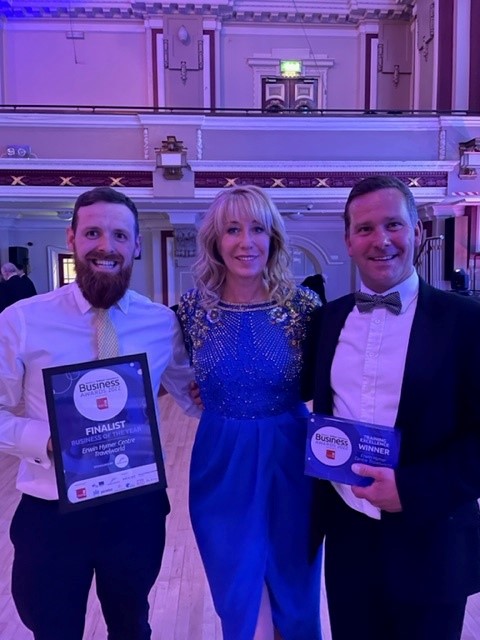 for a second consecutive year.
Travelworld was also a runner-up in the Business of the Year category.
We currently have 70 employees, of which 70 per cent are currently undergoing some form of training.
Ross Edwards, Managing Director of Travelworld, said: "We're very proud to have won the Training Excellence award, which is testament to our long-standing dedication towards consistent improvement.
"We have developed a remarkable internal training programme which gives employees the freedom and flexibility to focus on the subjects that are relevant to their role.
"Modules are very varied, focussing on everything from time management to coping with stress, communication to delegation.
"We also implemented mental health courses during Covid and we're currently rolling out our new Customer Service Excellence course for customer service advisors and members of the parts department team, further emphasising our commitment to industry-leading customer care.
"This is all great news for our people who are developing and learning new skills – and it's also hugely beneficial to our customers who are receiving improved levels of service and expertise."
Apprenticeships remain a core focus for Travelworld and we currently have five apprentices working through the habitation training programme at EMTEC in Nottingham, endorsed by the National Caravan Council.
Furthermore, there are 12 members of staff studying for NVQs – four in customer service, two in business administration, four in team leader, one in sales and one in management.
One prime example of how Travelworld has supported personal growth is Cathy Hordern, who was promoted to Customer Care Manager towards the end of 2021. Cathy has worked with the business for three-and-a-half years, starting out as a part-time receptionist before moving onto service admin.
Erik Baxendale, meanwhile, was promoted from Operations Manager to Operations Director after continuous training over eight years with the business, while James Prime, Howard Dalton and Ashwin Prasat underwent training with E&P Hydraulics and VB-Air Suspension and are now approved to fit both the high-tech systems.
Ross added: "Our reputation as a leading motorhome specialist depends heavily on the capabilities of our staff.
"We want to continue to provide the most relevant opportunities to ensure learning is gauged at an appropriate level for individuals and to present practical and educational training to employees, equipping them with the skills they need personally and professionally."
The 2022 Stoke-on-Trent BusinessLive Awards were hosted by ITV weather presenter Emma Jesson and took place at the King's Hall in Stoke-on-Trent.