For the second in our series of trips around the British Isles, we have travelled over to the South West of Wales to visit the sandy beaches of Pembrokeshire.
Pembrokeshire is home to the Pembrokeshire Coast National Park, a unique coastal national park, which contains the famous 186 mile walking trail, the Pembrokeshire Coast Path. The county of Pembrokeshire is filled with rocky coastlines, stunning cliffs, mellow coves, amazing surf and astounding seascapes for you to wonder.
Motorhome travel in Pembrokeshire is a feast for the eyes, alongside the beautiful beaches, just a short walk inland leads to quaint market towns, a plethora of castles, cathedrals, houses and even a lighthouse for you to visit. Pembrokeshire also boasts the Blue Lagoon Waterpark, Castell Henllys (a reconstructed Iron Age fort), Folly Farm Adventure Park and Zoo, Oakwood Theme Park, Pembrokeshire Motor Museum, Tenby lifeboat station and the Torch Theatre. Pembrokeshire really does have something for all ages.
Motorhome Friendly Sites & Stopovers
As with the first instalment, the experts here at Travelworld Motorhomes have selected a number of motorhome friendly campsites, to provide you with a quick reference to get your planning started. As always, these are just a select few of the vast array of motorhome friendly campsites available in Pembrokeshire.
Fishguard Bay Caravan and Camping Park
Garn Gelli, Fishguard, Pembrokeshire, SA65 9ET
Sitting high upon an unspoilt peninsula overlooking Fishguard Bay, the Caravan and Camping Park is in an ideal spot, it offers stunning scenery and easy access to the Pembrokeshire Coast Path. Fishguard Harbour sits just across the bay, where you can take some time out watching the Fishguard to Rosslare ferry as it arrives and departs from the port. The pitches set aside for motorhomes are on level or slightly sloping, on well drained grassland, close to electrical hook-ups and the chemical disposal point and there are screened refuse bins for your convenience. The park amenities include a shop, launderette, information room, children's play area, games room and gas supplies (additional costs apply).
Hungerford Farm Touring Caravan Park
Loveston, Kilgetty, Pembrokeshire, SA68 0NY
Hungerford Farm Touring Caravan Park is situated in a semi-rural location, midway between the county town of Haverfordwest and the perennially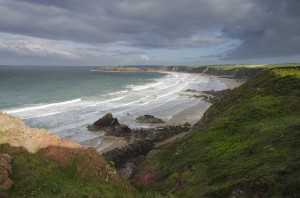 popular seaside town of Tenby. The Preseli Hills are to the north of the park and with the Pembrokeshire National Park to the South, the park is positioned perfectly for visiting all Pembrokeshire has to offer. Hungerford Farm has enough hardstanding pitches to cater for 25 motorhomes (or touring caravans). The park offers a quiet base from which tourers can visit the many visitor tourist venues Pembrokeshire has, including the Creswell Quay hamlet where you can visit the local pub that has kept its 19th century charm in the 21st century. For your comfort, the park's amenities include a designated dog walk, electric hook ups, grey water drain on each pitch and excellent TV reception.
Kiln Park Touring and Camping Park
Marsh Road, Tenby, Pembrokeshire, SA70 8RB
Nestled in the Pembrokeshire Coast National Park, surrounded by woods, close to sandy beaches and countryside is the Kiln Park Touring and Camping Park. Surrounded by green fields, woodlands and famous beaches, Kiln Park encompasses wild flower meadows and the big stone arches of the old lime kilns that give the holiday park its name. Kiln Park is open annually from March to November and the park ensures there are plenty of sporting activities the whole family can enjoy, including an indoor and outdoor pool where pool kayaking is available, tennis courts, facilities for archery, fencing and only a short walk away is the local golf course. Alongside the sporting activities, walking tours and bushcraft sessions are organised in conjunction with the national park rangers who can advise on the best picnic spots across the park. You can visit close-by Tenby, visit the harbour, take boat trips to the nearby islands or visit some attractions that younger members of the family will enjoy, including Heatherton World of Activities, The Dinosaur Park and Manor House Wildlife Park.
Your Next Destination?
Give us some feedback. We would love to hear where you would like us to visit next, or if there is anything else you would like us to tell you about the counties we visit on our trip around the British Isles. The expert teams at Travelworld Motorhomes would love to hear from you. In addition to hearing where you would like us to go, we can offer advice or support on any aspect of holidaying in your motorhome, don't hesitate to give us a call. We will be more than happy to assist you.