Things to Do in Northumberland
Welcome back to our motorhome excursions across the British Isles. For the next instalment in our journey, we have travelled up to Northumberland to view the beautiful landscapes our North East Coast offer. We are sure you won't be disappointed with our destination.
Firstly, Northumberland is home to the world famous Hadrian's Wall, the biggest building project the Roman's undertook here in Britain. So vast was this undertaking that after almost 2,000 years post-construction it still dominates the county's landscape. Northumberland has more than just the wall to entice history lovers. You can visit the Holy Island of Lindisfarne, various battlegrounds of the numerous disputes over the centuries between England and Scotland, the stately homes, such as the Cragside Estate and you can walk around the famous gardens the county is home to, including The Alnwick Garden and Howick Gardens and Arboretum.
There are also indoor activities to ensure you and your family are never bored, if you are unlucky enough to stumble upon inclement weather. The Woodhorn Museum and Northumberland Archives are of particular note for visitors.
Outdoor Pursuits In Northumberland
The Northumberland countryside is home to some amazing landscapes, and is well suited for outdoor activities, such as walking, cycling, fishing and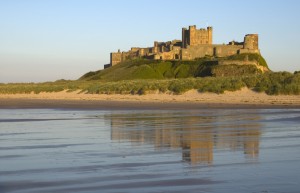 wildlife watching. As well as the countryside, Northumberland also has over 30 miles of incredible beaches for you to enjoy. The town of Amble overlooks the harbour, and Bamburgh Castle stands guard along this coastline, we recommend visiting at dusk to capture the castle at its finest.
Walking along the Northumberland Coast Path, which is a section of the North Sea Trail, is an opportunity not to be missed. The coast provides the opportunity to visit the islands close by, including Holy Island and the Farne Islands which are home to the famous puffin, as well being home to the UK's largest grey seal colony. If you are lucky, you may also spot a dolphin too.