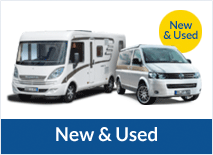 Taking your motorhome on the Eurotunnel means your journey to the continent can be a quick and easy one, taking around 35 minutes from platform to platform. However, there are a few important things to take note of before you begin and set off.
Taking Your Motorhome On The Eurotunnel – Things To Remember
The height restriction for carriages is 1.85 metres. Vehicles that exceed this height are placed in a single deck carriage (double decks are for saloon cars) and you are able to sit in the vehicle for the duration of the trip over the water
Entrances into these spots are also wider to allow for larger vehicles like motorhomes to manoeuvre easily
Carriages are enclosed and you are advised that your windows should be opened slightly
Weight restrictions for the Eurotunnel state that vehicles over 3.5 tonnes are not permitted on the shuttle. You may need to travel on the freight service if the goods on board are over 3 cubic metres, this rule counts even when goods are for private use
Campervans, motorhomes, American RVs can all travel on the Eurotunnel. The important factors to remember are the heights and weights of vehicles. If your vehicle is within these limits then travelling should not be a problem
The Eurotunnel offers a Flexiplus ticket which allows for priority boarding amongst other things. Unfortunately, vehicles exceeding the specified height of 1.85 metres do not qualify for these fares
You are not permitted to use the toilet in your motorhome while in transit but there are toilets available for travellers while on board
If you are taking your motorhome on the Eurotunnel then it is also useful to be aware of the rules on using LPG tanks. (link) as there are specific rules relating to the amount allowed
To find out detailed fare information for your journey on the Eurotunnel it is advisable to go on to the website and begin a booking. Prices will be displayed once you have entered your travel dates and vehicle types.
Looking For A New Or Used Motorhome?
If you are looking for a wide range of new and used motorhomes then look no further. Here at Travelworld Motorhomes we have an extensive range of vehicles from well known brands, including Hymer, Chausson, Auto-Trail and Niesmann + Bischoff. Why not browse our stock of vehicles online or call us to discuss your requirements and we will do all we can to help.
Popular Brands
Take a look at our stock from these popular motorhome manufacturers:
Hymer motorhomes
Niesmann + Bischoff motorhomes
Carado motorhomes
Dethleffs motorhomes