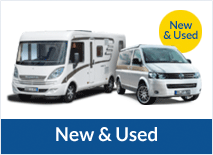 In response to the growing need for a reduction in carbon footprint size, US product design and development company, Robrady, has developed a new sustainable motorhome equipped with the latest environmentally sound devices.
Robrady, who specialises in product engineering and has previously worked with Mercedes-Benz and Yamaha, hopes to maintain the levels of comfort we have come to expect from a motorhome as well as focusing on sustainability.
Development Process For New Concept
The designers began the process by trimming down the size of the traditional American RV to make it instantly more fuel-friendly. It then incorporated some of the features below to add to its overall efficiency:
Sustainable Motorhome Features:
Solar panels on the roof and awning
A motorcycle electrical charging station
A condensation capture device called an AquaVentus which draws water from the atmosphere into a tank
Hydrogen fuel as an alternative power source
The new concept comes at a time when austerity measures are still making headline news. News which some say has triggered the popularity of the 'staycation', where more holiday makers than ever are using their motorhomes and caravans to take them to popular holiday destinations in the UK.
Demand For Smaller and Lighter Motorhomes Growing
In a recent interview, Nick Page, Commercial Director of motorhome and caravan manufacturer, the Swift Group, told Motortrades Insight website that the demand for van conversions and smaller and lighter motorhomes was growing.
He said: "People are more environmentally sensitive so we are constantly looking to improve fuel and aerodynamic efficiency, plus in today's economic climate customers are wanting exceptional value for money.
Explore our website to find out more about range of motorhomes for sale uk.