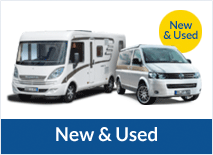 Travelworld Motorhomes has become one of the first dealerships in the UK to invest in a revolutionary safety system which prevents falling accidents.
The revolutionary safety system system, described as 'fall arrest' operates in the same way as a seat belt would in the event of a collision. If someone is working from a height on a motorhome roof, for example, and they accidentally fall, then the harness attached to the worker will decelerate the fall and bring the person to a stop before they hit the ground.
Peak Safety Services who supplied the London 2012 Olympic Games with its high level rope, provided the three- hour training session to members of the Travelworld workshop, valet and parts team.
Erik Baxendale is Service Manager at Travelworld Motorhomes. He says: "We have always invested heavily in safety training at Travelworld. If one of our members of staff had a fall while working on a vehicle, we realise how grave the consequences could be. The new system works well and provides optimum reassurance that we won't fall and injure ourselves so we can safely get on with the job."
Working as a technician in the workshop or while cleaning and preparing a vehicle can pose several different work place accident risks, including the risk of falling from a height, which is one of the most common causes for serious and fatal accidents at work. Erik added that he is happy that his team will be able to concentrate on the job they are doing without the worry of falling.