Travelworld Motorhomes are extremely proud to announce their 40th Anniversary in business. The company was founded by Bob Edwards in 1977 and during the past four decades has operated in many different areas of the motorhome industry including manufacturing, distribution and of course retail.
As a Motorhome dealer Travelworld spent the largest proportion of its trading history importing and retailing American Motorhomes, however things changed 10 years ago when the focus of their operations became very much on European motorhomes.
After totally restructured the business to accommodate the new strategy of importing and retailing European motorhomes Travelworld were lucky enough to partner with the most prestigious brand in the industry 'HYMER' and in 2014 took the decision to commit 100% to the company and became an exclusive 'ERWIN HYMER GROUP' dealer.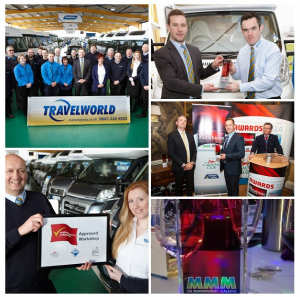 Travelworld's main focus has always been customer service, and this shows in the continual investment in its facilities including showroom & service centre infrastructure, IT systems and staff training. Travelworld currently has one of the largest motorhome showrooms in Europe and a facility covering 40,000sqft set in 4.5 acres of dealership space including 15 service centre bays.
Now one of the largest dealers in the UK, Travelworld is committed to serving the motorhome community to the best of its ability as it has done for over four decades.
Today there are three generations of the Edwards family working within the business and the family are looking forward to making it another 40 years!