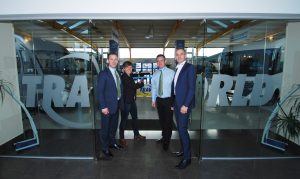 Representatives of both HYMER and CARADO in the form of their respective export managers visited the 'Travelworld Motorhomes' dealership for the grand opening of their newly refurbished showroom & service centre.  In a ceremony that saw Andrea Kibler HYMER Export Manager and Neil Dries CARADO Export Manager cut the ribbon to the entrance of the new showroom and announce this as one of the best motorhome showrooms in Europe!
https://www.youtube.com/watch?v=mh7X7oDLyt8
With the ability to display up to 50 motorhomes in an environment not dissimilar to one of the major indoor exhibitions and with their displays being exclusive to the 'ERWIN HYMER GROUP' products the Travelworld showroom is something to behold, especially as the company decided to paint the entire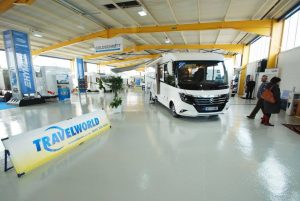 40,000 sq/ft floor in stunning light grey!  "We wanted that real wow factor when you first walk through the door and we wanted both our service centre and showroom to have that clinical feeling, like a McLaren Formula 1 pit garage!" "We are very pleased with the outcome and our investment in the Service Centre includes three brand new 2 post ramp systems capable of lifting the largest of European motorhomes, benefitting both efficiencies and the working environment" said Ross Edwards, Travelworld Managing Director.
Travelworld have also completed work on a bespoke dealer management software system which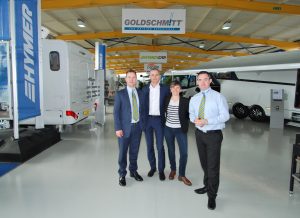 integrates all departments of the company and allows for both customers and vehicles to have unique history files.  Another benefit and one that Travelworld believe maybe unique in the industry is a paperless service centre where technicians have been supplied ipads and work orders are sent and processed electronically.
Travelworld's Nick Barker talks us through the recent refurbishment project and the rationale for the makeover.
https://www.youtube.com/watch?v=-l06iBwuoYo