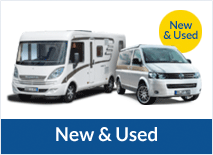 Draining your motorhome's water systems is very important; even the smallest amount of water left in a tank can turn into ice and create problems. Below are some straightforward tips to remember for motorhome winter care.
Open all taps and drain valves inside and take out any drain plugs too. Remove showerheads and make sure that internal water tanks and any onboard pumps and/or filters are able to drain. You will need to empty the full system after your final use of the season.
If you have a cassette toilet, clean, flush and drain all of the water out. Drain the flushing water into the drain tube and flush as much water as you can out of the system and into the waste tank, then clean and empty the waste tank.
Moisture can still form inside your motorhome, even when it is stored away and this can cause corrosion. An idea is to move it outside in dryer and windier days to allow some ventilation inside.
Many motorhomers use their last trip to prepare their water system for storage. They empty the tanks on-site and during the journey home, any excess water is dropped out of the system by leaving open draining points.
placing stoppers over taps and drainage points will prevent any undesirables from gaining entry into your motorhome's drainage system.
There is more advice on water systems and how to look after your own individual motorhome's water system. Don't forget that your motorhome handbook will also contain some useful hints and tips on motorhome safety and maintenance in cold weather.
Winter is one of the best times to get your motorhome serviced as it can be a more quieter times in the motorhome calendar.
Aftersales Advice From Travelworld Motorhomes
The team at Travelworld have a wealth of experience when it comes to knowing about motorhome winter care and winterising your camper van. If you would like a chat with one of our team then please call us on 0844 808 4938 and we can give you more up-to-date information and advice.