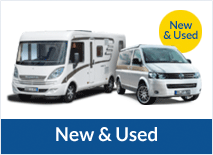 A man from Yorkshire is spearheading a motorhome stop over movement campaign to prevent a local council from imposing motorhome stopovers.
Andy Strangeway, who has already successfully led a motorhome stop over movement campaign to remove hundreds of stopover signs in the Scottish Highlands, is now questioning North Yorkshire County Council for its erection of non-stop over motorhome signs in parking spots.
Mr Strangeway, from East Yorkshire, said that some of his motorhome-owning friends felt that some of the council's policies were 'anti-motorhome'. He also said that he believes there is desire from the council to move motorhomes on to local caravan parks. He added: "Not only is this immoral and illegal it also shows a gross misunderstanding of the lifestyle of motorhome owners."
No Immediate Plans To Remove Signs
A spokesperson for NYCC said that there is no plans to remove the signs which have been imposed through a temporary order. Motorcaravan and Motorhome Magazine spoke to a spokesperson from the council who said: "The council receives many complaints about motorcaravans parking on-street for a variety of reasons, including numerous complaints from local residents… of waste being deposited on the highway."
The Traffic Regulation Order stops motorhomes parking overnight in 13 locations around the area and it will probably be extended. The prohibition has been put in place on the grounds of environmentalism and waste disposal issues.
Buying A Motorhome With Travelworld
If you are looking to buy a new or used motorhome or you have yours serviced then Travelworld Motorhomes can help you. We help our customers everyday with their vehicle servicing, parts, accessories and purchasing queries. Our sales team has unrivalled knowledge in some of the best known luxury motorhome brands including Carado, Dethleffs, HYMER and Niesmann + Bischoff.
When you purchase a motorhome with us you will receive a 90 point habitation service, six months warranty and 12 months motorhome or camper van MOT.
We also have a 10,000 sq ft service centre equipped with the latest technology and an aftersales team armed with the knowledge to help with every aspect of looking after your vehicle; from MOTs, windscreen repairs and air conditioning repairs.
Please get in touch with us on 0844 808 4938 for more information and advice.