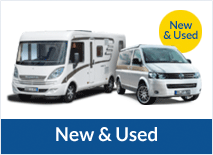 A motorhome awning is a must have for any enthusiastic Motorhomer. Boosted living space, extra storage, sheltered enjoyment of your beautiful surroundings – you can do it all. If you know how to install an awning on a motorhome you can save yourself a bit of money whilst doing it too.
Types of Awning for Your Motorhome
There are two main types of awning for you to consider if you're thinking about installing one on your Motorhome. Most fall under the category of either a canopy awning or a drive-away awning. A canopy is permanently attached to the Motorhome at roof level and you can adjust it when needed. Drive-away awnings offer flexibility in that they can be detached/attached as desired but will take up storage space if on the road.
Measuring your Motorhome for an Awning
It's important to properly plan when fitting an awning. You must first measure your Motorhome in order to decipher where your awning will fit. After measuring the height and length of your vehicle make sure of the following points:
The location of any external storage compartments. These must be left uncovered by the awning as they may be rendered inaccessible if your awning is in the process of being used
Windows, vents and other similar objects. These must also be left uncovered as to not restrict light into the Motorhome, or limit the flow of any gases into/out of the vehicle.
Installing a Motorhome Awning
Depending on the type of fittings your vehicle already has, and the type of awning you are going to fit, will mean the method may vary. If your Motorhome has a 'C' Rail fitted, awnings can be attached with a fitting kit which has a kador strip. That'll attach to the rail and parts of plastic in a figure 8 shape.
If your Motorhome has a 'J' rail, the figure of 8 plastic attachments will easily clip on and off. Alternatively, if your Motorhome is lacking any rail, then one can be purchased. The rails are easy to install but do require holes to be drilled into the side of your Motorhome. You may wish to have a professional install it to avoid unnecessary mistakes.
You need to also consider that C rail and j rail will be ok for bag awnings and drive away type, but motorhomes normally have fixed mounting brackets and fish plates if side mounted and mounting bracket and roof fixings if mounted on the roof, certain manufactures have specific mountings.
Motorhome Awning Advice From Travelworld
If you would like more advice on attaching an awning to your motorhome or campervan then get in touch with our friendly and knowledgeable accessories and service team at Travelworld.